All-State speakers
Seniors Laura Johnson, Hannah Singewald, Olivia Anderson, and Josie Ramler were named All-State for speech.
Hang on for a minute...we're trying to find some more stories you might like.
On Thursday April 11th, 21 competitors and three coaches loaded the bus at Cannon Falls High School. A cumulation of rain, sleet, and snow poured down upon the speakers, but it did not stop them from heading to an event at Wayzata high school that they have trained all year for– the state speech tournament. Among the 21 CFHS speechies, seven would advance into finals, and four would be named "all state" speakers including seniors Laura Johnson, Hannah Singewald, Olivia Anderson, and Josie Ramler. These four girls worked hard to receive such an honor. To become an "all state" speaker, students must make it to the state tournament at least two times, achieve high academic success, and use their speaking abilities outside of a speech tournament setting. After looking at the four's history in speech, plans for the future, and coaches influences, it becomes clear that each girl has been positively impacted by the speech community.
For a total of 21 years, Johnson (7 years), Singewald (6 years), Anderson (5 years), and Ramler (3 years), have been a part of the speech team, comprising of many Monday night team practices, tons of individual practices, and countless Saturday tournaments filled with great memories. "My favorite memories are the ones I made with friends, like when Hannah Singewald yelled trust fall." When the four were asked how it felt to become members of the all state team words like "grateful" and "surprised" came up, but Singewald says "I've had some very successful seasons and feel honored that my hard work was recognized by being a part of all state." Speech teaches valuable lessons. As seniors, all of them plan on continuing to use what they have learned on the team throughout the rest of their lives.
"
They have all sacrificed so much for each of us and they bring us to our highest potential"
— Olivia Anderson
Using their speaking skills as they move onto post secondary education is something all of them are looking forward to. "Speech will help me with my theater major in college," Ramler shared. Anderson even gave a "lecture of her previous speech to faculty at the University of Minnesota." The girls credit their success to all four speech coaches, Cal Vandehoef, Holly Winget, John Fogarty, and Destinee Stamer. "They have all sacrificed so much for each of us and they bring us to our highest potential," Anderson reflected. All four speaker's thankful and hardworking attitudes helped lead the team to a successful state tournament.
In the midst of the storm, the four still fared well against the competition. Not only did the Johnson, Singewald, Anderson, and Ramler add their names to all state speakers on Friday at the state tournament, but Johnson received 3rd place and Singewald received 5th, helping the Cannon Falls team bring home the 2nd place trophy. Even if these girls were named all state, their success is more than talent. Rather, their hard work, dedication, and positive attitude have made a difference. As they leave CFHS, it will be exciting to see all four girls use their speaking skills to change the world.

About the Contributors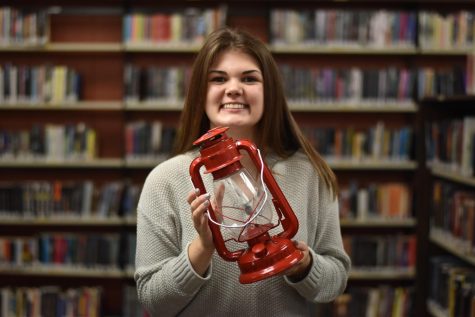 Emma Conway, Editor-in-Chief
Emma Conway is a senior Editor-in-Chief for The Lantern. As a Yearbook Editor, Speech Captain, Student School Board Representative, MHS Historian, and...