Heading in the right direction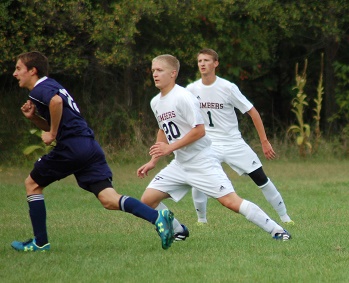 October 23, 2015
Filed under Sports
Hang on for a minute...we're trying to find some more stories you might like.
The seasons change and with it comes the end of a "pretty darn good season" of soccer, according to Coach Adam Reuger. Turns out he is right. The team gave up the least amount of goals (49 or 3.5 goals per game) and had the best record so far of 4-9-1. The team "met and exceeded" Coach Reuger's expectations. However, Coach Reuger or anyone else could not have expected what would happen in the post season game against Winona. The team performed admirably, only giving up one goal in the first half due to a remarkable header to the top left corner, but things got hectic in the second half. Barely two minutes in, Winona had a break away and their forward was in the goalie box about to shoot when sophomore Tom Sucher stepped on the heel of the forward from behind, tripping him. The ref blew the whistle and gave Sucher a red card. According to the rules, any player that disrupts an obvious scoring opportunity with a foul is given a red card and in high school, any red carded player cannot return to the field AND his position is vacated for the rest of the game. This meant not only a penalty kick for Winona but Cannon Falls was also stuck with playing 10 vs 11 for remaining thirty-eight minutes of the game. It was too much. An extra man meant Winona could play much more aggressively and they bombarded us with shots until the game ended 0-6 Winona. Cannon Falls was rather disappointed in how events played out. It would have been a much different game without that red card but people cannot change the past. Thus ended the 2015 season of Cannon Falls boys soccer team and the final official game of this year's senior class.
With every season's end comes the loss of seniors. Dalton Tanner, Max Rueger, Ryan Epps, Michael Monson, Derek Isenberg, Lucas LaMoore, Zack Katterjohn, and Ben Clow will have to be replaced and while it does "hurt us really bad," Coach Rueger believes that new faces will be more than adequate and ready to step up to fill the void of lost seniors. With practice, next year's team will work on ball fundamentals like dribbling and passing as Coach preaches that these skills win games and with luck the team will carry on and get a better record next year. The Cannon Falls, boys team has doubled their win totals each season, however an eight win season is setting the bar pretty high for next year's team. Who knows, maybe next year when the leaves turn red once more the team will have earned eight wins and become the best boys team ever, just like the team this year. Records are meant to be broken and so far the Cannon Falls boys soccer team just keeps breaking their own records and becoming better and better.