The new Dean in town
The new Dean of Students, Mr. Nelson, is very excited to become part of the Cannon Falls community.
Hang on for a minute...we're trying to find some more stories you might like.
He is a skier, father, Goodhue county native, and new faculty member for Cannon Falls High School. Mr. Adam Nelson, the new Dean of Students, is a new face in our school. Nelson is planning to call Cannon Falls High School his new home, and therefore we should welcome him with open arms. Nelson has an interesting background, reasons to join Cannon Falls, and job description and so we figured we'd dig a little deeper into this mystery man.
Nelson lived along the Cannon River in Welch Minnesota but went to school in the neighboring town of Red Wing. He attended Gustavus Adolphus College and obtained a degree in teaching social studies. Our new Dean of Students taught in Red Wing, was a principle in Grand Marais, and was a superintendent in a town near Duluth. Nelson and his wife missed the Goodhue County atmosphere so as soon as a job position was available, they jumped at the opportunity. Mr. Nelson has been married to his wife Jackie for eight years and they have three beautiful children; six year-old Ebba, four year-old Patrick, and seven month-old Lancy. Skiing at Welch Village as a family is one of their favorite activities. Mr. Nelson is even in the NASTAR ski league. His parents own Welch Mill Canoeing, Tubing, and Kayaking so they enjoy lending a hand during the summer months.
"
one thing you can control is your attitude"
— Mr. Nelson
When asked what his job entails, Nelson replied "My official title is Dean of Students. My job duties are similar to what an assistant principal would be. I believe my main job duty is to be an advocate for students. I help support and problem solve with students when they are struggling in school." If anyone has even glanced at Mr. Nelson, one would know that he always has a great attitude and the biggest smile on his face. Mr. Nelson commented on this by saying, "One thing I have learned over the years is that there are a lot of things you cannot control. The one thing you can control is your attitude. I believe life is way better when you're happy with a smile on your face."
He truly believes that Cannon Falls is his forever home. This is his 15th year in education and he says the 2018-2019 school year has seemed to be the fastest one yet. He really enjoys the extra time he spends with his family and he loves coaching football again. He says that this school is an amazing place to work and a great community to raise his family in.
Cannon Falls is lucky to gain his positive attitude, new perspectives, and love of advocating for students.

About the Writer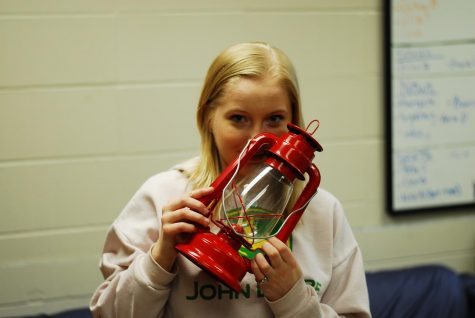 Olivia Anderson, Special Projects editor
Hello, I am Olivia Anderson and I'm a senior. I am writer for features. I've been in the Lantern my whole high school career and I was a writer for...