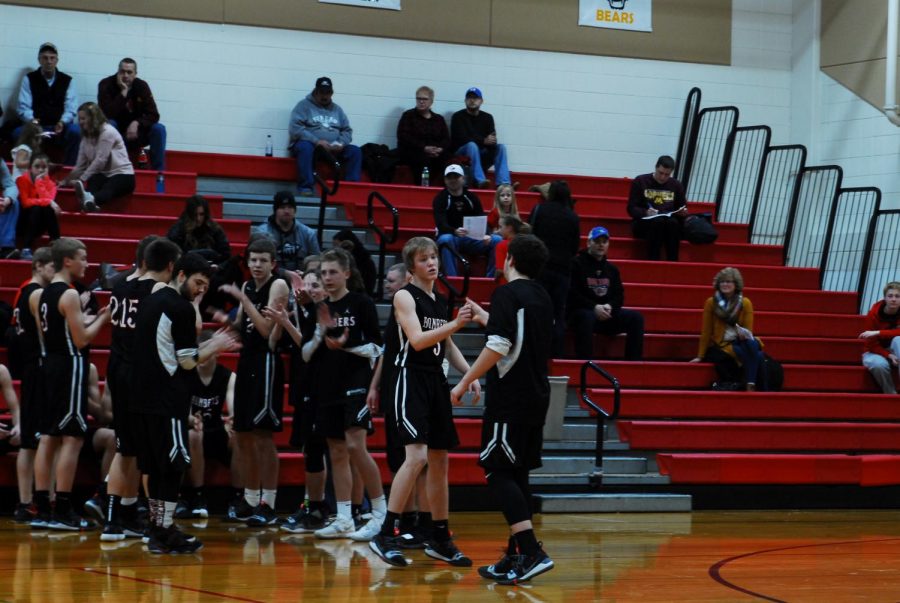 Izael Souza
Everyone loves an underdog story. The Bomber boys basketball team has had underdog written all over them.  Coming into the 2018-2019 season, the expectations were low. Last year, the Bombers had a few embarrassing losses, especially a game where they were dismantled by the Zumbrota-Mazeppa Cougars by nearly 30 points.  This year, the team is looking to change those expectations.
The theme for the team this year is "victory requires payment in advance." After having losing records the last couple of years, captains Isaac Illa, Kendric Banks, and Drew Otte have pushed for players to work on their game in the offseason. "It would be awesome to start the playoffs with a home game. The guys on this team are really close and if we stick together then I think we have a shot," said Illa, a senior on the team. The Bombers haven't had a home playoff game in a few years, and this year the team is ready to break that streak.
At the beginning of the season, the boys basketball team wasn't projected to have a winning record. Only a few players from the 2017-2018 season returned to the team this year, so a lot of younger players have filled the missing spots. The Bombers came out on fire at the start of the season winning the first three games. They have faced some tough losses from opponents this year including a couple of ranked teams such as Breck and Lake City. This team has been working towards consistency. The Bombers have won their last eight games which has injected them with confidence heading into the playoffs.  "When this team plays together and believes in themselves, they can compete with any other team," stated head coach Josh Davisson when asked about how the team has been playing this year.
The main goal that the Bombers have set for the season is to win the HVL blue division. With a few wins in the division against Goodhue, Kenyon-Wanamingo, Kasson, Pine Island, and Triton, the Bombers are in the race for the crown. The favorite of the blue division, Zumbrota-Mazeppa, defeated the Bombers towards the beginning of the season. As the team improved throughout the season, the Bombers crushed the Cougars 60-43 which tied them for first in the division. If they are able to win out, they will be crowned blue division champions which also gives them a chance at winning the HVL. Taking down the Cougars who have ruled the blue division for the past couple of years, the Bombers have proven that they are not to be trifled with. Though the path to the championship is faced with some tough opponents, the Bombers are out to prove that they are the top of the food chain.