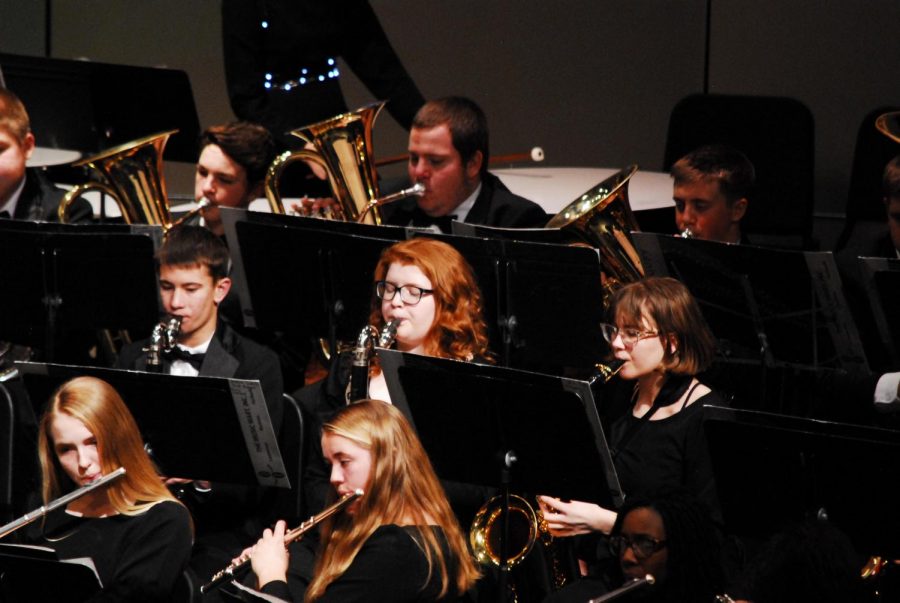 Zoe Jesh
With the holiday break just around the corner, the Cannon Falls Bands wanted to help get everyone into the holiday spirit. On Friday, December 14th, the Cannon Falls Band held their annual holiday concert. The high school concert band played last following the fifth, sixth, middle school jazz band, steel drum band, and concert band. High school jazz band, flute choir, and steel drum band all made appearances at the holiday concert playing all the classics. However, the real game changer came when it was finally time for concert band, when director Mr.Legvold chose some more well known songs. They played four songs: two much older tunes named "Jesus Jesus Rest Your Head" and "O Come O Come Emmanuel". "Fantasia 2000" and "A Charlie Brown Christmas" rounded out the order giving many people some familiar tunes to enjoy.
The choice in songs this year was a hit with the band students. Ryan Schlichting, a Junior, stated that, "I really enjoyed playing the recognizable songs as it's fun to play along to the songs I grew up listening to." Kristina Allen, another Junior, stated that, "I think it was definitely more fun playing recognizable pieces because it was much easier to learn. It was also easier to tell if it was wrong because most of us know what the songs sound like." After talking to a few other band students it seemed like the general consensus was that the more well known songs were much more appreciated.
With all that being said, the less recognizable songs still are cherished. Schlichting stated that, "Some of my favorite band songs are lesser known songs that we play that end up sounding really really cool and are a ton of fun to play. They can be really challenging so it's a huge reward to play those tunes to perfection."  
All in all, this year's holiday concert found a perfect balance between obscurity and relevance in the song selections. Mr. Legvold did an excellent job at bringing out the best of his group of young individuals. Hopefully with this concert, people can go into the holiday season feeling a little more merry.