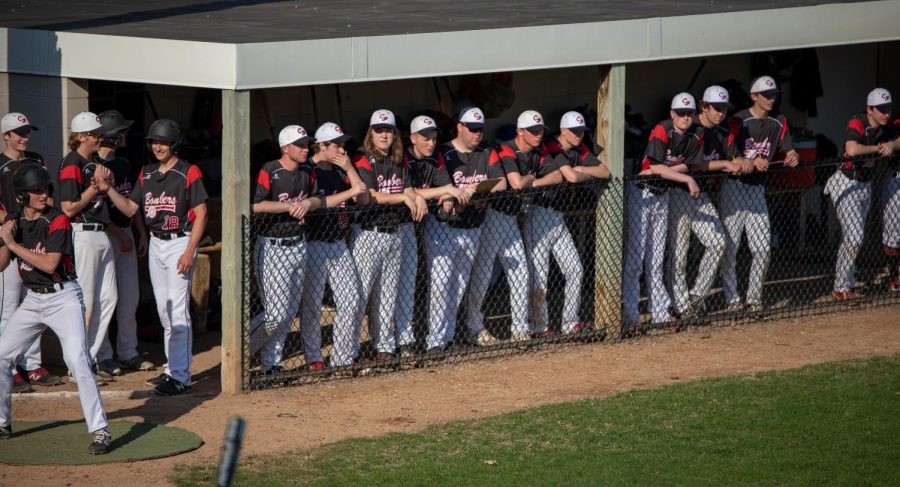 Katie Allen
Bases loaded, bottom of the 7th, 2 outs, and the game is tied. Sophomore Marcus Banks steps up to the plate, sees his pitch in, and cracks a hard ground ball up the middle scoring the winning run. The stands erupt in cheers and the team floods onto to the field, swarming Marcus as they celebrate their victory over Zumbrota-Mazeppa and the capture of the HVL Blue. However, the regular season didn't quite finish as successfully for the Bomber baseball team.
After suffering defeat at the hands of local rival Randolph and HVL Gold rival Lourdes, the Bomber baseball team looks to amp-up their game for the coming section playoffs. Despite the tough losses, players and coaches are still optimistic about their season, past and present. Senior Roan Reardon says, "We lost a lot of close games in the top of the 7th inning; I think we easily could have ended our [regular] season having close to 18 wins."
"We are hitting our stride at the right time of the year," states Coach Keith Meyers. "Guys are finding their roles… and what things they need to do to win close ball games." Despite being on the receiving end of those tight spot losses recently, the Bombers have managed to scrap out a several of these close wins like a 2-1 victory over Goodhue last Thursday. It only took one inning of a couple hits, a well-placed bunt, and beating out a double play to secure the necessary runs for victory, and coaches maintain that these experiences in close games will only "make you (the team) better" for the upcoming playoff run.
The boys open the playoffs by hosting Kenyon-Wanamingo on Thursday, May 23. They look for a repeat performance of their last two games against the Knights, both of which resulted in wins for Cannon. While not looking past this single elimination game, the Bombers are optimistic for their chances in the section. As senior Ben Villarreal puts it, "We just hit the ball, play defense, and pitch strikes, I can see us going to state."