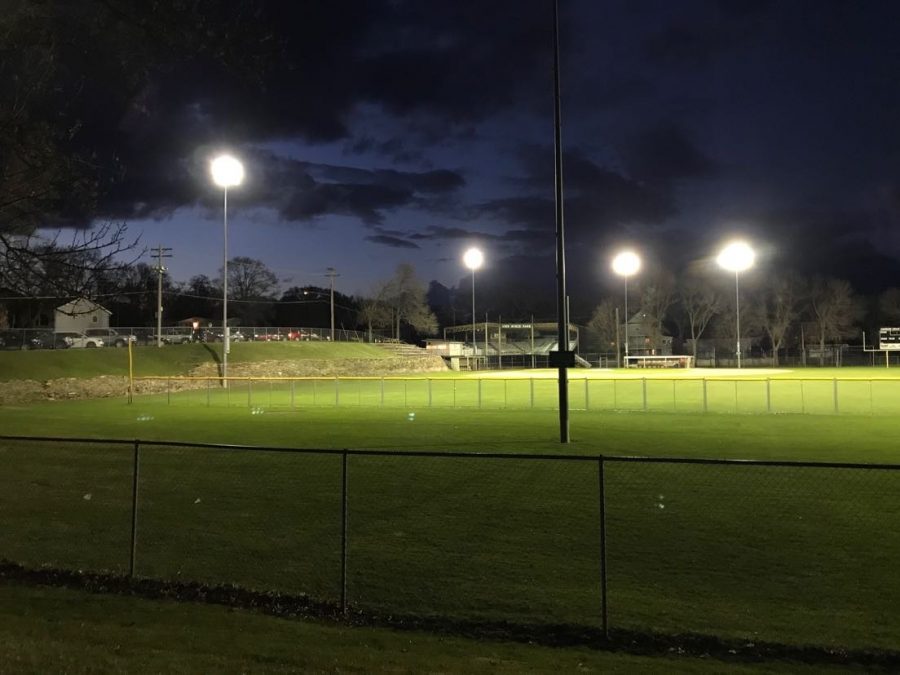 Chris Baszuro
First launched by Dumas High School in Texas on March 24, the #BeTheLight movement has since swept across the nation. In recognition of their senior classes, who are heartbreakingly missing all of their 'lasts' of high school due to the COVID-19 pandemic, schools from coast to coast have lit up their vacant athletic fields. On Wednesday, April 8, the city of Cannon Falls joined the spirit-lifting movement to bring the light to their devastated seniors, as a culprit they can't see is ripping everything from their hands: senior prom, final seasons of sports, one last band or choir performance, perhaps even the opportunity to walk across the stage to be handed the diplomas they have worked the last twelve years of their lives for—the list goes on. 
At 8:20 p.m. (20:20 in 'military' time), John Burch Park, a location near and dear to the seniors who have made memories under the park's lights, was illuminated for 20 minutes and 20 seconds. During the school year, the park is home to Friday night football action, cheerleading stunts, a rowdy pep band, the senior night soccer games, Bomber baseball matchups, and so much more. It's the heart of the town. Long before the field was lit up, the entire parking lot along the field's sideline began filling up with cars as did the overflow parking lot across the street. While some students opted to enjoy the view from inside the safe isolation of their vehicles, others stood up through their sunroofs or sat on top of their cars to socialize with those around them while still maintaining the proper social distancing guidelines. When varsity baseball coach, Bucky Lindow, finally flipped the switch, the seniors made their appreciation known by laying on their horns, a joyous raucous that could surely be heard all over town. Trace Adkins', "You're Gonna Miss This," the senior song of the class of 2020 was heard sounding from one student's vehicle. Another senior beneath the glare, Julia Jarvi, could hardly contain her delight as she put into words what all of her classmates were thinking. "It was pure bliss," Jarvi said. "When I look back on all the good in 2020, that is one memory that I will never forget."
The park will brightly radiate the same hope at the same time every Wednesday evening until the end of the school year or until students can return to the classroom. #BeTheLight is not a movement for just those being kept from playing on their home turf, but for the entire class of 2020 that is sacrificing seemingly everything for something greater, a crisis staring the entire globe in the face. Out of the darkness that the world has found itself in the midst of, a resilient light—the community rallying behind their senior class—continues to shine brightly.