Bouncing back
The tennis team overcame the challenges of the season to have a successful year.
As the tennis season came to a close the team finished with an overall record of 6-6. This season has been challenging due to number issues. They had to pull up three 8th graders, Josie Sjoquist, Cami Anderson, and Sofia Nerison, to play on varsity. JV coach, Karen Adel, said, "[they all] stepped into the role with ease." As a team, they made it to sections where they came in second; they were also second in their conference. In both sections and their conference, they came in right behind Rochester Lourdes who won the section for the 27th year in a row. But, with all the extra work the girls put in over the summer, they hope to do the same next summer and take first in their conference and in sections to make it to state. The girls still were not too disappointed in the outcome. Senior captain Morgan Kasa said, "This being my senior season really didn't set in until after our team section matches. Up until that moment everything felt the same as all the previous years, but once we got the 2nd place medals, it finally sank in that this would be the last time playing with my team." At sections, they played Lake City in their first match and won 5-2. They then moved on to play Rochester Lourdes and lost 2-5. Rochester has been the team to beat for many years now, but for about 27 years now nobody has been able to beat them. 
In individual sections, the team was able to send two doubles teams and two singles players. Hannah Hjellming and Lauren Ritz participated in sections as the #1 doubles team and Morgan Kasa and Claire Dicke as their #2 doubles team. For singles, they sent Olivia Villarreal as #1 and Josie Sjoquist as #2. Morgan and Claire, Olivia, and Josie all lost in the first round and were done after that. The #1 doubles team had a bye in the first round and won in the second round to move on to the second day. Unfortunately, they lost their first match on the second day to the #2 Rochester doubles team, which took state out of the picture. However, they were able to pull off a win over the Lake City #1 doubles team and placed third in the doubles section of individual sections.
"
We are always trying to improve each year"
— Karen Adel
Next year coach Karen Adel has high hopes for the team, saying "We are always trying to improve each year. Finishing second in both conference and in sections is really good, but our goal is of course to reach that spot of #1 and head to the state tournament". Next year if they are able to reach their goal of making it to the #1 spot and state it would be a nearly perfect send-off for their 5 seniors. Karen also made a comment about how much hard work the girls have put in over the last off-season and during practice this year. All of the off-season training has paid off this year so, making it to the #1 spot and to state next year may be a realistic goal, if of course, the girls keep up the hard work.
About the Contributor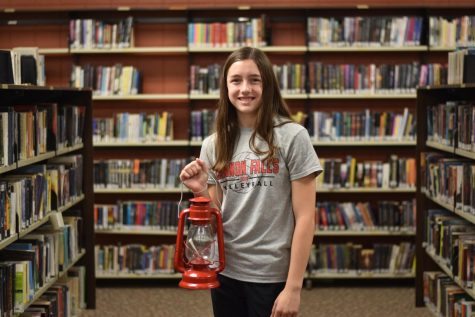 Anna Ritz, Staff Writer
My name is Anna Ritz and I'm in 9th grade. I'm a sports writer for the Lantern and I play volleyball, basketball, and softball.