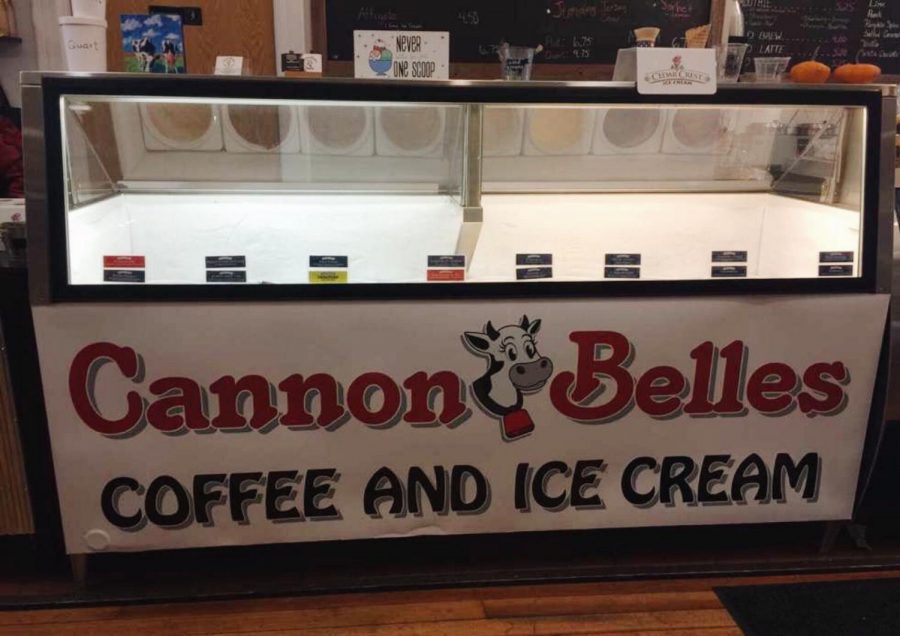 Zoe Jesh
Wondering where to get delicious food and flavorful ice cream even in the winter? The small busy town of Cannon Falls has just the right place for all of these aspects. The one and only Cannon Belles Coffee and Ice Cream Shop recently opened at the end of spring with a booming number of customers. The shop has become very popular around town because of a plethora of plentiful pleasing positives. 
Looking around the charming shop for the first time, many customers notice the cozy, warm and rustic environment. It is filled with a cow theme that coordinates with the dairy concept for the store. Many others walk in and are greeted with a lovely smile and a friendly "hello." Relaxing or catching up on some extra work, many customers use the space as a safe haven. For instance, high schooler, Haley Afltor commented, "I love the environment! It is a great place for students to do their homework and I really enjoy sitting by the window with the warm sun." 
Aside from the inviting atmosphere, Cannon Belles has an abundant variety of foods to taste. Their most popular item is the extravagant flavors of ice cream and sorbet. Plus, the store also sells breakfast options like fresh muffins and bagels. On the other hand, one product that is specially produced by Cannon Belles is their local cheese. They have a variety of cheddar, gouda, and queso fresco. The queso fresco also stars as the main ingredient to one of Cannon Belles famous lunch items—the grilled cheese. Although the sandwich is delicious, it is only served from eleven to two on weekdays and Saturdays. Many customers and even workers rave about this item. For example, a long-time worker of Cannon Belles, Sierra Banks, noted, "After working there for a while, in my opinion, I would have to say the best option is definitely the grilled cheese made with queso fresco. It is amazing and I highly recommend the grilled cheese and soup." At the counter, employees also have their favorite specialty drink written on papers on the wall that visitors love to order. 
Usually, my taste buds will gravitate towards my usual order which is the ice cream flavor of 'Pirates Bounty'. However, sometimes I like to switch my order up a bit and go for a mystery flavor milkshake. Another customer by the name of Anna Becker also loves their products. She explains, "I am very basic so I usually get two scoops of vanilla ice cream, but I have heard everybody loves Cannon Belles coffee!" If the customer also purchases a coffee, they will supply a cute little cow sticker. After going there multiple times, it has come to my conclusion that I will never get sick of their splendid variety of food.