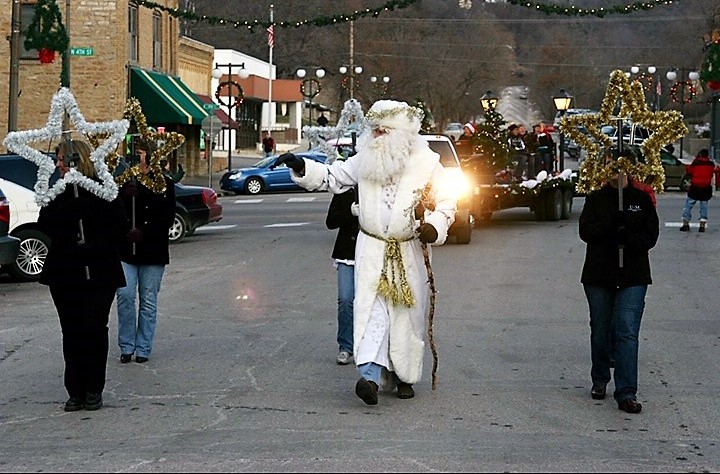 Dick Dalton
On Saturday November 24th the streets of Cannon Falls were filled with holiday magic for the annual "Deck The Falls". Characters from the Holiday movie favorites such as Frozen and The Polar Express made appearances alongside other classic characters such as Father Christmas and Santa Clause. The parade has been a tradition for many years now in Cannon Falls, but there's more to Deck the Falls than just the parade.
Prior to the parade, Santa Clause paid a visit to the Hi Quality Bakery. Kids and parents had the opportunity to take pictures with the jolly fellow for free. Throughout the day many businesses offer special deals and prices on items in an effort to boost their revenue for the day. Finally, another major part of the event comes after the parade is over: the lighting of the Christmas Tree. After a countdown, the crowd gawks from across the river at the magnificently lit tree, while they enjoy a nice warm cup of apple cider. However, accomplishing all this would've been a lot harder without the help of the many student volunteers./
Ryan Schlichting, a junior, helped volunteer at Deck the Falls twice now. This year Ryan was the conductor of the Polar Express, and his brother, Grant Schlichting, was a polar bear. Ryan, like many others, enjoys the holidays and uses the Deck the Falls event to help spread holiday cheer. "My favorite part is seeing the joy on kids faces as I rode by on the float. I loved it, especially since I was working with my brother." Ryan also stated that he has no doubt that he will be doing it again. "I would absolutely do it again. It's a great experience for everyone involved and it really helps spread the holiday cheer."
Another junior, Kristina Allen, was dressed as Elsa from Frozen, with Saundra Stodden at her side as Anna. As a more recognizable characters, they noticed that she had many fans in the crowd. "All the kids were yelling  'Elsa, Elsa!' as Saundra and I went by." stated Kristina, "They got so happy when we waved to them. It was adorable!" Despite the warm feeling she got from making the kids smile, Kristina still wasn't able to fight of the bitter cold. "I enjoyed participating in the parade, but it was very cold."
 With the parade all wrapped up, many are ready to head into the holiday season merry and bright. However, without the help of volunteers like Kristina and Ryan, the event wouldn't have been nearly as jolly.