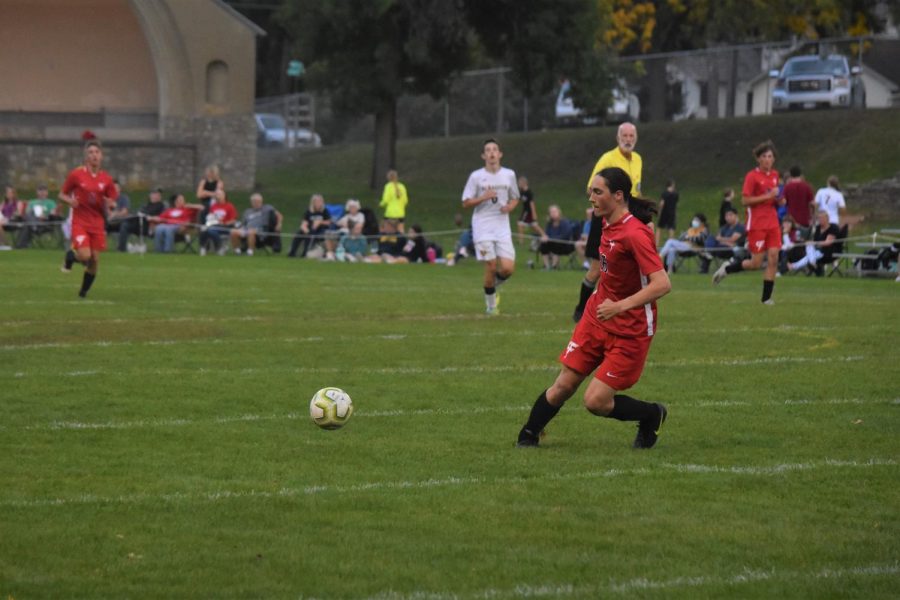 Nathan Baszuro
The Cannon Falls boys soccer team had quite the season this year. After starting off on a loss, they came back stronger. The boys' overall record this year was 1-8-2 but that number does not account for all the close games and effort the boys put in. When Jack Freeberg, a junior on the team, was asked about how he felt this season went, he responded, "I think it could've gone our way a little more but we pushed through and we'll bounce back next year". 
The captains for the Bombers this year were Connor Loeschke, Cooper Schuttloffel, and Michael Fimmen. All of these boys have been on the team since seventh grade and have all greatly improved throughout the years. The program has been struggling with numbers for many years now, but that has not stopped these boys from racking in as many wins as possible. With the great leadership these boys have provided, they have established great friendships and connections with the younger classmen as well. Isaac Nelson, another Junior on the team, has made it very clear that not only the captains, but the other seniors have done a great job being inclusive and showing leadership throughout the season. "They were great leaders and will be missed next year". 
Their season ended with a heartbreaking loss to Fairmont. When the boys played them earlier in the season it was a very close game and they went into the game with high hopes. Although they didn't get to finish the year the way they wanted to, they were so thankful to get to play alongside their teammates again. "It was definitely sad because we all knew it was our last game together," Mayson Blanck mentioned.