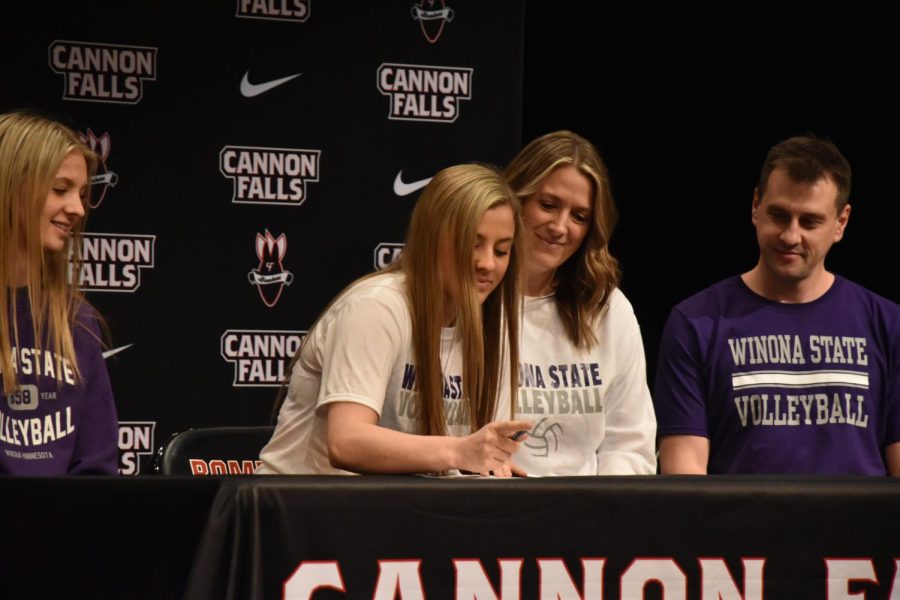 Nathan Baszuro
Senior Jaci Winchell has recently unveiled that she has committed to play Division II volleyball at Winona State University, in Winona, Minnesota. 
As a four-year varsity player for the Cannon Falls volleyball team, Winchell was a key leader on the court and helped lead the team to their first ever state tournament last fall. The setter also holds the school record for career set-assists, an astounding 2,599. In Winona, Winchell will be continuing to grow in her volleyball skills as a setter and potentially a defensive specialist.
Winchell shared that she decided to commit to Winona State University because she truly felt like she was a part of the team. After practicing with the players at one of their morning spring practices, Winchell said she felt like she connected well with every single player. "I saw eye to eye with the coaches and enjoyed their feedback and coaching style," Winchell stated. She also enjoyed the facilities WSU has to offer. Winchell added that "their gym is awesome, their weight room and equipment they have is outstanding, and their school buildings are pretty up to date as well." She also chose Winona because of the town, scenery, atmosphere, and campus size. "The campus is very beautiful and I feel like it is the perfect size for me," she said. 
After being surrounded by sports her whole life, Winchell is excited to continue being an athlete in college. She claimed that "it would just be extremely weird to not compete anymore." But, Winchell is most interested about the new friends she'll make in college. "I am most excited to meet new people and build relationships with those I meet. It is a place where a whole new chapter in my life will begin," she exclaimed. 
During her time at WSU, Winchell says she plans on majoring in either Elementary Education or Nursing. "I love kids, so both of these careers would be so much fun for me," she mentioned. "Both of these careers are definitely the toughest to pursue when being a student-athlete, but I am confident in myself that I could do it," Winchell explained. 
But, above all, Winchell is eager for her new beginnings and extended volleyball career at Winona State University.