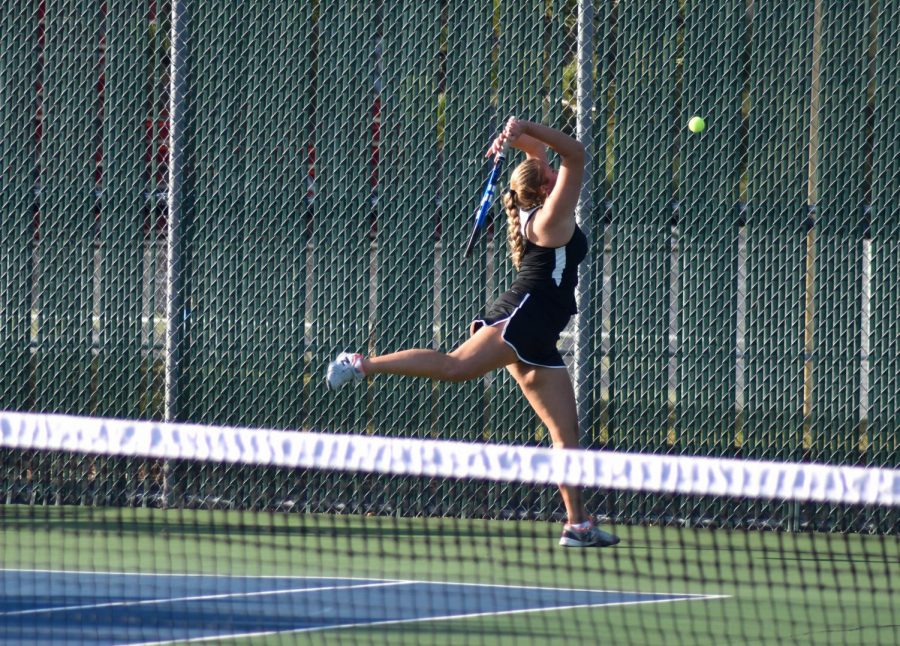 Nathan Baszuro
This year has started like no other for the Cannon Falls Girls Tennis Team. Although COVID-19 has put a stop to many after school extracurricular activities, it hasn't stopped the tennis team from competing this year; however, they have faced some abnormalities during practices which include wearing masks when they are not running or playing, and distancing themselves from one another during huddles. Senior Lindsey Miest is grateful for this opportunity to even have a season during this pandemic. "It's weird not being able to do our team huddles or be close to each other, but I'm just thankful we have a season this year," exclaims Miest. Senior Maddie Hall describes the use of masks as a "drastic change" from last season. When asked about what they will miss the most from their tennis career, Hall said that she will miss the team bond she has created with her teammates over the years. With such a young team, their bonds have grown stronger on and off the court. Miest will simply miss the conversations they had and the jokes they cracked during practices.
Both Hall and Miest got one last run at a tennis season this year, and their grind during the season rewarded them with the second seed in their section. Miest is proud of the effort they put forward to thrive during this season. "We're very proud of how much everyone has stepped up and fought hard this year." When asked what their team did to take such a lead in the section, Miest's response was, "We have switched up our lineup this year and tried new things to find what works for us." Hall said her training this season has included practicing new and different drills and also having a positive attitude.
Hall and Miest both hope the team continues to grow despite the number of seniors leaving this year. "Join Tennis! Our coaches are very supportive to new players so there is no reason to be nervous about joining the team," exclaims Hall. "It's a sport you can play all of your life," Miest stated. Miest adds on, explaining that tennis is a great place to meet new people and make friends. The Tennis team finished off their season by placing 3rd in sections.