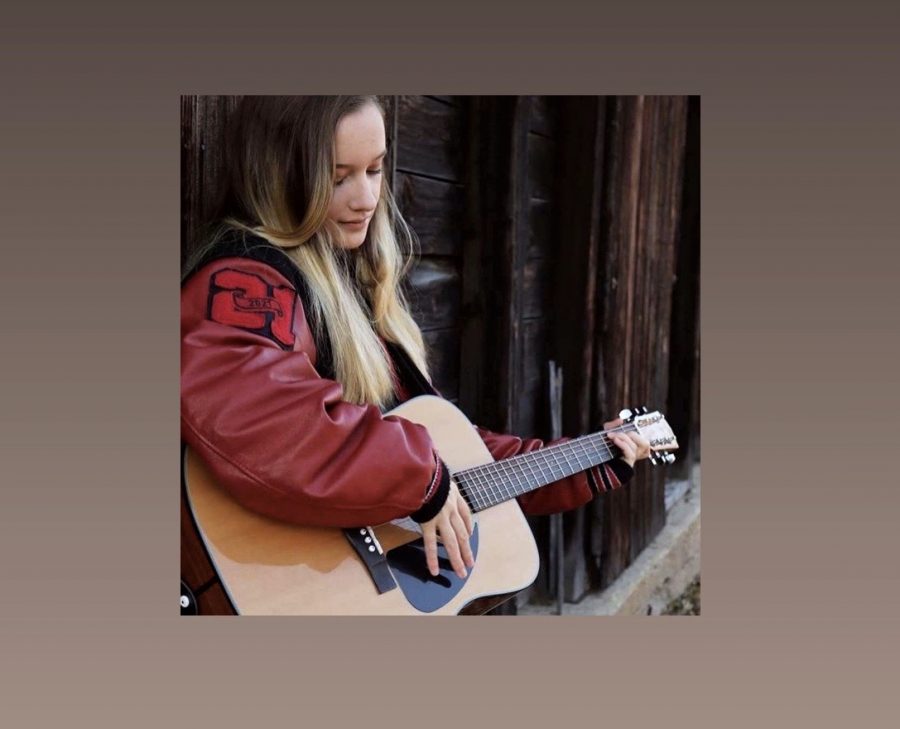 Anita Hartl
One in a million: a person or thing which is very special or admired. The four word phrase, coined for individuals who are remarkable, is rather fitting for one musician, Kressin Hartl. Her single "One in a Million," released on February 19, 2020, is the 11th grader's first song to hit the market. Even though the lyrics detail a relationship like no other, Hartl's relationship with music is at the heart of this love story. The 16-year-old's accomplishment, which stems from her passion for preforming and connecting with others through music, is not only motivating for all high school singers, but also inspiring for any young person in pursuit of their dreams.
On top of a heavy junior year coursework, the freelancer is involved in softball, speech, theater, band, and choir. Even in the midst of her hectic schedule, Hartl finds time for her music. Hartl's mom, Anita, highlighted, "I'm not really sure how she finds time to write and record songs. Some kids play video games or play sports; she sings and writes."All the hours the singer has spent in her makeshift studio reveals the immense amount of thought behind every note, every chord, and every lyric. Once the teen received recording equipment for Christmas, tremendous new music possibilities began to take shape. 
Originally, releasing her heartfelt tune seemed like a long shot; however, a chat with a peer changed Hartl's outlook. "I was talking to one of my friends and they talked about how one of their high school friends got a song on Spotify. And so I was like 'If they can do it so can I'," Hartl detailed. 
While mulling over the potential lyrics for the tune, the student (inspired by her personal experiences) highly considered how listeners could relate. Lyrics like "last time I followed my heart and ignored the voice in my head" and "I don't want to make the same mistakes" speak directly to listeners of all ages. When Hartl was content with her message, she began recording her single. Recording was a multi step process. She revealed, "I was actually sick when I recorded it, so there were so many attempts. There'd be times when somebody would walk in and I'd have to start over again or I would just screw up the guitar part. I played those chords so many times." Despite the obstacles, Hartl wound up with a product she was proud of. 
The publication of the mellow yet catchy song with layering was also far from one and done. TuneCore—the website Hartl used for the release—initially suspected the 16-year-old's track to be a copy cat. But a few days later, after an email exchange, she was cleared. Currently, her single can be accessed on Apple Music, Spotify, Amazon, IHeartRadio, and YouTube. Although Hartl cannot acquire any profits earned until she is 18, the singer/songwriter maintains sharing her craft with others is priceless. 
Without the support from both of her parents and Cannon Falls Teachers Sue Franke and Kathy Illa, Hartl believes her music wouldn't be the same today. Hailey Newinski, a Cannon Falls junior and friend of Hartl's, stressed, "Kressin is one of the most passionate people I know, so when I first saw her song on Spotify I lit up with glee. Being inspired by her song has made me become more aware of accomplishing things I aspire to get done." Hartl's mom couldn't agree more, saying, "Family, faith, and friendships, along with a passion to help others is what drives Kressin to be the caring person she is and what I believe inspires her to chase her dreams of becoming a recording artist." Hartl hopes she can inspire those beyond the Cannon Falls community as well. Other young artists who are on the fence about going public, in Hartl's eyes, should go for it. "If you just write what you want to write, it's easier to stay inspired," she concluded.
Hartl's vocality, honesty, and tenacity sets her apart from those her age and those far older. Anyone who is passionate about music can be moved by this love story because music, regardless of where it comes from, has the ability to connect people. For all of the teen's fans who are craving some more, Hartl is hoping to release an entire album over the summer. Her first single, however, is truly one in a million.