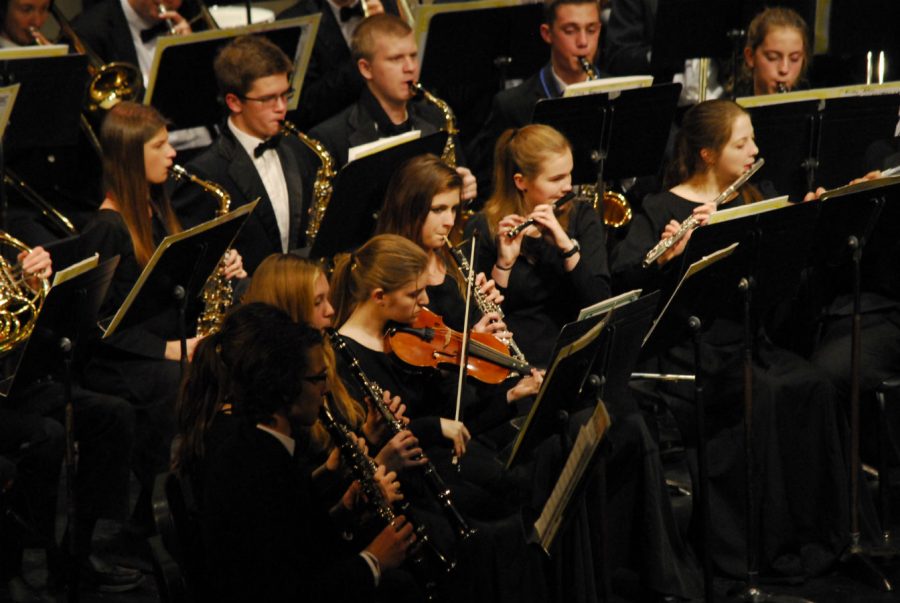 Zoe Jesh
On December 5th in the Cannon Falls Auditorium, more than Silver Bells were heard ringing through the halls. Just like the holidays, the High School Band performance has come around again. Nature seemed to give a gift of its own to the town of Cannon by placing a sheet of fresh snow to increase the atmosphere the music of the night set to create.
Along with the snow, the evening was given some extra holiday cheer in the form of a holiday prank. A Santa Bear and Snowman were set as a slight jest for the band director, Mike Legvold, near his podium. In the band room, the director's office was also hit as monochromatic bows were beset across the workspace. "I really enjoyed the pranks," laughed Legvold. "It really added to the concert spirit. It was a good, fun time. Hopefully a memorable concert."
To start off the concert, the Jazz Band played a version of Winter Wonderland with solos performed by seniors, Grant Schlichting and James Watson.  Following the holiday jazz was the High School Flute choir that played the Nutcracker March. And finally the Concert Band graced the stage with a quartet of music including Fantasy On an English Christmas Carol, Capriole Suite, European Christmas II, and Farandole. For many the holiday season is a happy time, but there is a bittersweet moment as this was the final Holiday Show for the band seniors. "It's kind of sad this being the last Christmas concert," says Percussion senior Michael Benson. "I'm  hoping to take experiences from here and bring them to college where I am hoping to start my own band."
The holiday season is a time for families to gather in tidings of comfort, joy, and music. The High School band encaptured this point through a night full of song, laughs, and fellowship with friends and family.