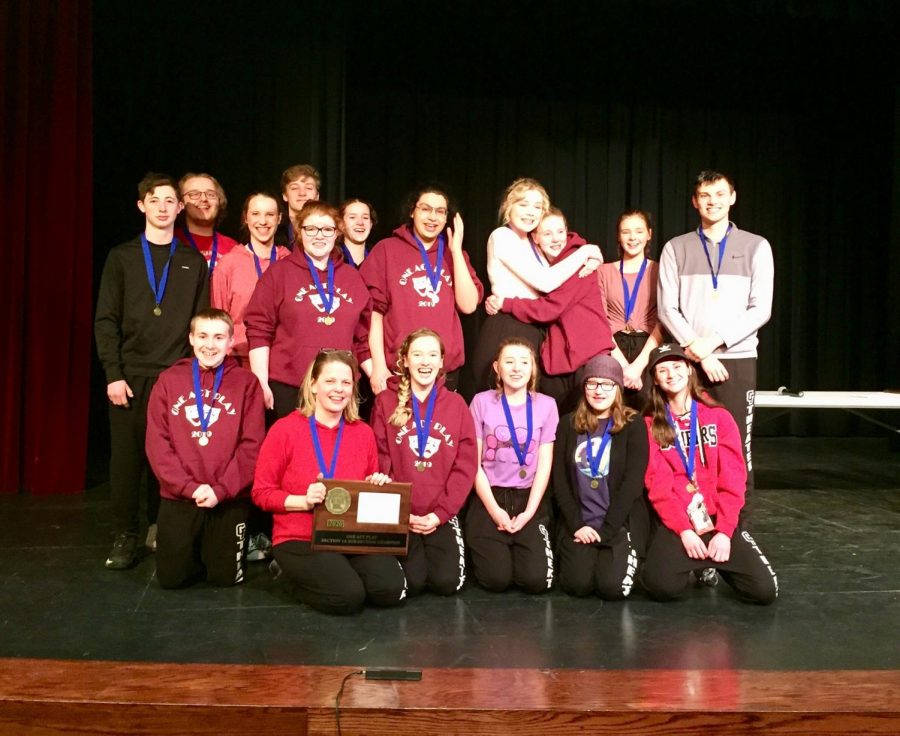 Lantern Staff
Pride and Prejudice is iconic. Despite the show's arguably dated story and complex language, Cannon Falls High School's (CFHS') One Act team, under the direction of Tania Legvold, has proved relevancy. The talented 16 person cast and crew story of hard work and dedication, which has led to a first place subsection trophy, deserves to be in the spotlight as the 35 minute production–adapted from the Jane Austen novel by Olive J. Morley–goes onto the Sections competition this weekend. 
One factor could've led to the cast's win against five other teams at Triton High School on Saturday, January 25; many apart of this production are well seasoned in the Cannon Falls' theater department. Fifth year One Act director, Tania Legvold shared, "Half of the cast is repeats from last year, so they know what to expect going into it." 
Some of the returnees include seniors Kate Churchill (Elizabeth Bennet) and Jasmine Schulz (Mrs. Bennet), who have dedicated time to a combined total of 18 musicals, One Acts, and plays. Although the pair has greatly enjoyed every show they've been in, One Acts have become extra appealing to the two over the last couple of years. "I really enjoy the competitive aspect and how we [the cast] get to go and see what other schools do," Schulz highlighted. The seniors' love for performing, however, didn't dismiss either's nervousness going into the January 25 performance. 
Because the cast began preparing in December through countless rehearsals, everyone had their eyes on the prize going into Triton. Churchill admitted, "I'm a senior. I want(ed) to go out with a bang. I want(ed) to go to Sections." So when Churchill, Schulz, Legvold, and the entire cast found out they would get to move on, it was a pretty magical moment. 
In celebration of the win, the Subsection Champs will have a community performance on Friday, January 31, in the CFHS' auditorium at 6:15 p.m. At 2:30 on Saturday, February 1, the group will take the stage in Kasson Mantorville, Minnesota for Sections. If Cannon Falls beats out the other eight teams, they will go onto the State Festival February 6 and 7. No matter the outcome when the curtain closes, this group of actors and actresses will forever hold memories, lessons, and the meaning of Pride and Prejudice with them far into the future.