The Testing
The Lantern reviews Joelle Charbonneau's "The Testing"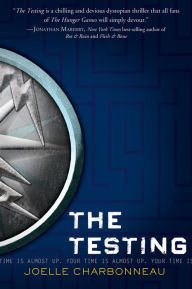 Hang on for a minute...we're trying to find some more stories you might like.
Cia's world was altered by a phenomenon called the seven stages war. Humans waged war against alliances in the first four stages and the last three stages involved earthquakes, tornadoes, and hurricanes. This left her world in ruins, caused starvation, contaminated water, and left the human population with nothing. To rebuild the world, the elite were chosen from schools and sent to be tested in a government controlled city. Although it is a great honor to be chosen, days are strenuous and failure is not an option.
When selected to take part in The Testing, Cia is faced with many challenges and problems. When kids don't pass a test, they don't return. Poisonous and nonpoisonous plants are placed together and kids have to separate them. After they are separated, kids are required to eat them, but there is no help for those who choose wrong. "The Testing", by Joelle Charbonneau, demonstrates survival of the fittest.
This book was interesting to read because it showed how kids would react when they realized they had to fight to survive. This led to betrayal by unsuspected culprits and the motto of "Trust no one but yourself". I enjoyed reading the parts where every student was taking exams. Most kids lied and bragged about how well they did, however, they were usually the ones who wouldn't make it. When the kids were tested on their ability of teamwork, some students would set others up for failure to weed out their competition. Although these parts were disturbing to think about, I feel the author, Joelle Charbonneau, did a great job of portraying what could actually happen when desperation sets in.
The Testing kept my attention, but I knew something was wrong with this book. I have never read "The Hunger Games" books, but I have seen the movies. The only thing I didn't like about this book is that it closely resembled "The Hunger Games". Students were chosen from different colonies to take part in The Testing, without a choice. Kids are trying to kill each other off so that they will survive, but unlike the forced fighting in "The Hunger Games", they are using their brains and strategically thinking things through. Also, there is the cliche romance between the Cia and another candidate chosen from her school. Personally, I enjoyed the storyline because I have never read "The Hunger Games" but people who have read them won't really like this book.