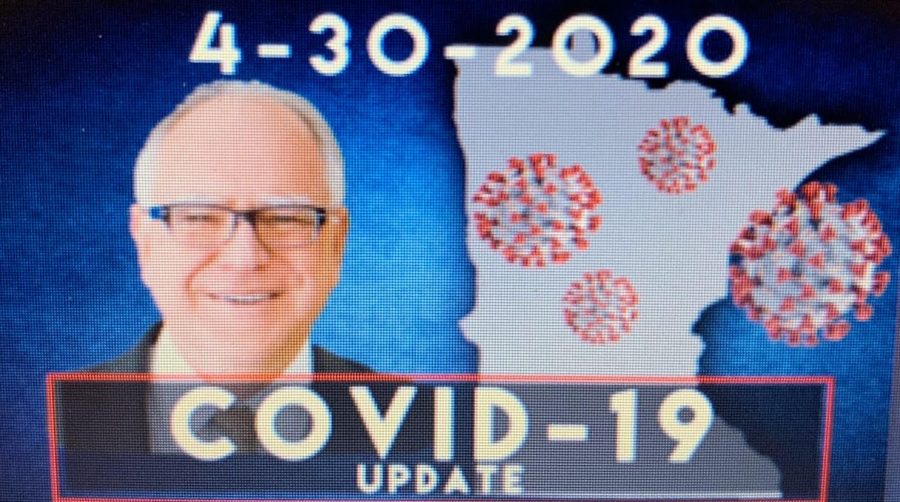 Amelia Qualey
On Thursday, April 30, at 2:00 p.m. Governor Walz delivered some tough news for Minnesotans to swallow. During his daily news briefing, he announced that Executive Order 20-20 will be extended until May 18. This Stay At Home Order was originally scheduled to end on May 4th, but Gov. Walz wants to handle this situation with caution. He stated, "There's more work to be done, and we need to keep this virus at a simmer, not a boil."
The intent of extending this order is to slow the spread of the coronavirus, protect those on the frontlines, and ensure that our health care systems are capable of handling the situation without running out of room or supplies. Although Gov. Walz's primary goal is to keep everyone safe, he also wishes to bring some normalcy back to life.
In an attempt to achieve this goal, he informed in his conference that on May 4th retail and noncrucial businesses will be able to resume curbside pick-up. This announcement will bring about 30,000 Minnesotans back to work. Gov. Walz hopes to safely return people to work, and to accomplish this objective, he has created a series of guidelines for workers to follow. 
The main expectation is that Minnesotans will continue to practice social distancing. When employees are dealing with customers, they are expected to wear masks and other protective equipment. For extra precautionary measures, customers are also encouraged to remain in their vehicles and make online payments whenever possible. He explained that "Our action today prioritizes the safety of Minnesotans while taking cautious, strategic steps toward getting people safely back to work."
Finally, Gov. Walz reiterated the importance of wearing masks and staying at home. The Coronavirus pandemic has taken its toll on the whole world. Right now, everything is up in the air, and no one knows for sure what will happen next. Fortunately, Gov. Walz is trying to roll with the punches and make the best out of this unfortunate situation.