A concert to start the spring
The Middle School and High School bands had a great performance and entertained the community.
On March 21, the Cannon Falls band students, 6-12, performed at their End of Winter Collage band concert.
The Cannon Falls Middle and High School band students had their concert at 7 p.m. in the auditorium. The sixth graders played first, then seventh and eighth graders combined for the next performance, then the High School Jazz Band for their first performance of the year, and finally, the High School Band. 
The sixth graders played three pieces: Pirates' Cave by Mark Williams, Zombies Stomp by Rob Grice, and Dragon Dance by Michael Story. While the sixth graders were playing the Zombies Stomp, there was a surprise guest marching across the stage acting like a zombie stomping. This surprise guest was John Delk, who was able to bring comedy into the piece through facial expressions and vocal effects.
The seventh and eighth graders performed together. They played Swing Street! by Don Schaeffer, March Of The Nightcrawlers by Thomas Duffy, and Thor's Hammer by Patrick Roszell. March Of The Nightcrawlers was a unique performance with a combination of snaps, claps, and taps. It sounded like there were actual nightcrawlers in the auditorium.
The High School Jazz Band played Jammin' With Charlie by Dean Sorenson. There are two senior soloists in this performance. The soloists were John Delk, a tenor saxophone player, and Sam Auger, an alto saxophone player. 
The High School band played two pieces of music that they performed at the HVL band contest  in Kenyon-Wanamingo. Between three judges, the band earned a Superior Rank. The High School band students practiced these two pieces of music for almost three months to make it sound as perfect as possible. The two songs are Three Ayres from Gloucester by Hugh M. Stuart and Into the Storm by Robert W. Smith. The Three Aryes from Gloucester contains three parts The Jolly Earl of Cholmondeley, Arye For Eventide, and The Fiefs Of Wembley. They have worked so hard on these pieces, and they performed well. A trumpet player, Randi Hanson says: "It went really well, we played with great articulation."
The band concert was a success for both the students and the director. It was counted as a final assessment for the band on their Quarter 3 grades. Their band director, Mike Legvold, commented: " I think the bands all played well. There has been a lot of improvement since the school year began." It was an enjoyable experience with many different kinds of music.
About the Writer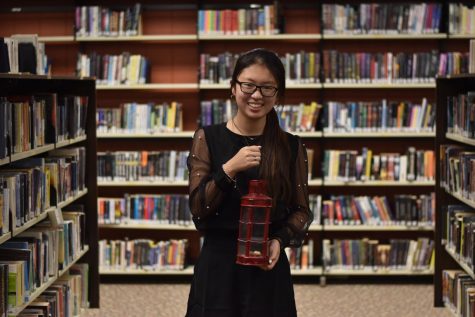 Angel Zheng, Staff Writer
Hi! My name is Angel Zheng. I am a sophomore and I enjoy creating art. I have an adorable cat, Cinnamon, that I love so much.