A cornucopia of mini Thanksgivings
With stricter COVID-19 regulations going into effect in Minnesota this weekend, Thanksgiving plans are going to be slightly less traditional.
The smell of the freshly baked green beans, fluffy mashed potatoes, and warm buttered bread lingers through the air while many give the people they call their blessings some social distance. Thanksgiving is right around the corner, and countless people are wondering how to celebrate the family-style tradition this year. Attempting to follow the new Covid guidelines given by the governor, Tim Walz, many are thinking outside the box for an idea on how to honor the meaningful holiday. This may include an early celebration, a smaller gathering, or a virtual dinner. 
Earlier in November, when the weather was enjoyable, people had the opportunity to get together outside to give thanks. While celebrating in advance, Lucas Newinski, stated, "Having an early Thanksgiving meal felt weird. It definitely did not feel like Thanksgiving but it was the safe option." Alternatively, the best part of Thanksgiving for certain individuals is the excitement and frenzy of cooking with family and friends. One way to re-create the feeling is for each household to cook the same batch of recipes separately since many can't all be in the same kitchen this year. That way, over a long-distance video call, families can enjoy the same meal. For those who do decide to gather on the holiday, the guestlist for the in-person gathering has to look quite smaller. For one high schooler, Kressin Hartl, Thanksgiving plans have been heavily altered due to virus restrictions. She notes, "I am pretty upset about not being able to see my mom's side of the family but I understand that it's better for everyone where health is concerned." 
"
Having an early Thanksgiving meal felt weird"
— Lucas Newinski
Unfortunately, a new norm of smaller gatherings will replace the now scuttled large events, including holiday parties that used to bring together thousands of people to share a turkey or two. This might lead to a shortage of small turkeys, a greater demand for parts such as whole breasts, and higher prices of Thanksgiving-related delicacies across the board. In fact, Ferndale Market, located in Cannon Falls, is known for selling free-range turkeys during this time of year. The company has been trying to keep the turkeys in their supply small, but they've begun to recognize the returning customers that were buying turkeys earlier in November. The business is still doing exceptionally well despite the disrupted Thanksgiving this year. 
Spending the holiday social distanced will provide the safety needed to stay healthy. As many are seen giving thanks in many different ways that have never been done before, this thanksgiving will definitely be one to remember. Although I am bummed about not having a traditional Thanksgiving, I am thankful that I still get to spend it with my family.
About the Contributors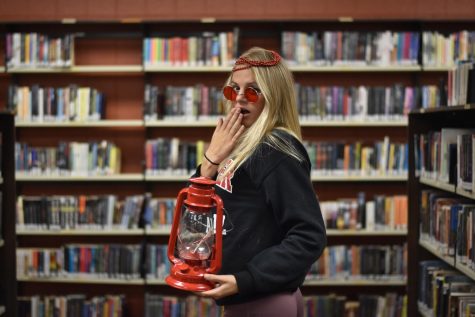 Hailey Newinski, A&E Editor
Hailey Newinski is a junior editor for the category of Arts and Entertainment. She is on Varsity Soccer, Speech team, and track. She also is involved in...