A fond farewell
This year's seniors reminisce on their time at Cannon Falls High School.
As the school year starts to come to a close, students begin to prepare for the final tests, assignments, and projects to conclude the school year. Working toward a common goal, the seniors at Cannon Falls high school are finishing their final weeks of high school before receiving a diploma at the graduation ceremony on May 19th. Although the stress of school will not be missed by many of the students, there are many fun memories, events, and classes that have created a positive experience for the students. Reflecting on the four years of high school, the seniors reminisce on their favorite memories, classes, and give advice to underclassmen.
Throughout high school, students have many exciting events including dances, games, and a common favorite, homecoming week. When asked what the most memorable and fun event of high school was, almost all of the seniors answered homecoming week. "I like homecoming week because I love participating in the dress-up days and doing fun activities throughout the week." says senior Kyra Schoenfelder. "But obviously, the best part is the football game, and also the pepfest and wearing bomber gear. I also enjoyed being on the homecoming court. " Other seniors, including Claire Dicke and Taylor Kapp also agree. "Our senior year of powderpuff was really fun," says Dicke. "It was nice to win for the third year in a row." Another senior Grace Swanson reminisces on her time at prom, "It is fun to dress up and go to events with the people in our grade. Dressing up for the grand march and going to the dance after was also really fun." The excitement that homecoming weeks bring, including the football game, dress-up days, the senior vs. Junior boys volleyball (beefcake), and girls football game (powderpuff) prove to be a memorable experience. 
Although there are many fun events, dances, and games to look forward to, one vital aspect of school is the classes that enrich a student's education. When asked what their favorite class in high school was, Claire Dicke and Taylor Kapp answered "Chemistry with Mr. Bennett. I liked the people in the class and Mr. Bennett was a fun teacher." Tristan Qualey favors Mrs. Winget's AP Lit class, "It is basically a fun book club with a lot of unique choices." "The best class I've ever taken was APUSH," says Lauren Ritz. "It taught me how to write timed essays." The classes offered to students at Cannon Falls have provided an excellent education. 
With a variety of fun classes offered for Cannon Falls students, many of the class teachers have made an impact on the seniors as well. "My favorite teacher is Mrs. Loescke," says Schoenfelder. " I like the way she teaches and she is very nice but also straightforward and relatable." Makenna Collins likes Mrs. Hernke and Mrs. Hoffman, because of their "humorous personalies in and outside of the classroom." Nathaniel Baszuro's favorite is Mrs. Winget because "she was always open to conversations and questions. She always liked sharing cool stories with us in the morning too." "My favorite teacher was Mr. Quinlan" Swanson states.  "He gives you advice and teaches you about life skills, not just the subject he teaches." With the great staff of Cannon Falls, students have been able to learn from positive instructors in a comfortable classroom environment. 
Navigating high school is complex and sometimes difficult. Through the senior's experience in high school, they were able to give pieces of advice to help underclassmen throughout high school. In terms of classwork, Baszuro suggests "Get your work done on time and ask questions in class." Schoenfelder advises students to take classes out of your comfort zone. "You will never know if you can excel at a certain subject if you do not take a difficult class." With the stress of high school friendships, classes, and college, many seniors also emphasized the importance of not getting caught up with anxiety and hardships. "Don't worry about the drama," says Dicke. Collins also adds "Don't overthink college decisions." Swanson stresses the importance of having time for yourself, explaining "Still make time to be with your friends, don't let yourself worry too much and over consume with school and work."
Being a senior is bittersweet and the Cannon Falls high school has offered a memorable education and experience for students. The variety of events and memories, advantageous classes, and the dedication of the class teachers have helped many students have positive memories to look back on. As the school year begins to come to a close, the class of 2023 will start a new chapter in their life with many memories from the Cannon Falls high school to reminisce on. 
About the Contributor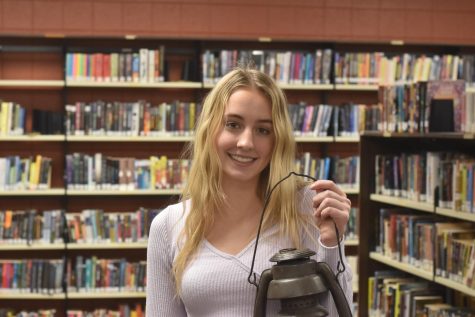 Maddie Becker, Features Editor
Hi, my name is Maddie and I am a senior editor for the Features category! I am involved in both the school dance team and the Shoreline dance studio in...