A light at the end of a dark tunnel
As 2020 comes to a close, new opportunities for success become available.
A year is composed of 31,536,000 seconds, 525,600 minutes, 8,760 hours, or 365 days. Although there are multiple ways to divvy up a year, the most common measurement of time is in days. For most individuals picking one span of 24 hours in particular to call their favorite is a tedious task. Birthdays along with holidays tend to be popular treasured moments for people all around the world, but others, like John Fogarty, an English teacher at CFHS, claim a more unique day to recall as their favorite. 
In his 73 years of life, Fogarty has always remained loyal to December 21. When glancing at this day on a pristine white calendar, it might simply look like any other ordinary day; however, beneath the surface, it is a day of change and positivity. Being the shortest day of the year, it marks the beginning of the gradual switch from a dark gloomy atmosphere to a much lighter and brighter one. After this day passes, each day thereafter — for the next 6 months — gets longer, and the sun illuminates the sky for a greater period of time. 
Since the beginning of March, when the news of the Coronavirus struck in the United States, more and more people have struggled to remain positive than ever before. Restrictions and regulations have prevented people from participating in the hobbies and activities that have previously brought joy. As the winter solstice comes to a close and provides more natural daylight on the 21st, people across the nation should start to follow its lead and seek a more positive attitude about the current pandemic situation. 
Whether it is visible or not, there are various opportunities to be optimistic hidden in the near future. Christmas is just around the corner. Students are starting to be accepted into their dream schools. More news is being broadcasted about the Covid vaccine, and several groups of individuals are receiving the first wave. The Cannon Falls School Board recently voted in favor of high school sports resuming in-person practices on the 4th of January. Even though it may be extremely difficult for some to maintain a positive outlook during this problematic pandemic, it is important to note that it is not impossible.
Starting as soon as December 21, people should start seeking their silver linings. If the truth is told, marvelous memories can be made anywhere, even in a world covered in masked individuals, carefully spaced six feet apart. This dark period has to be nearing the finish line, and a beam of glistening light is starting to appear at the end of a narrow tunnel. Now is the time to find the light.
About the Contributor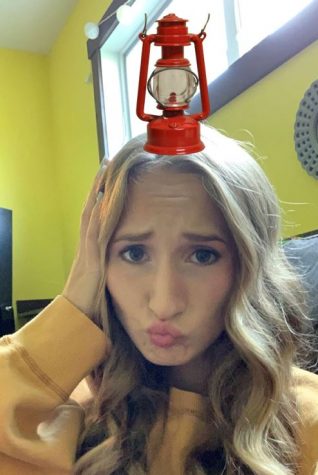 Amelia Qualey, Editor in Chief
Amelia is an alien from the planet Blurble. Her car of choice, a green Kia Soul, resembles one from her home planet. She is a professional dancer because...