A musical medley
The fall band and choir concert on Friday, October 29th was a success.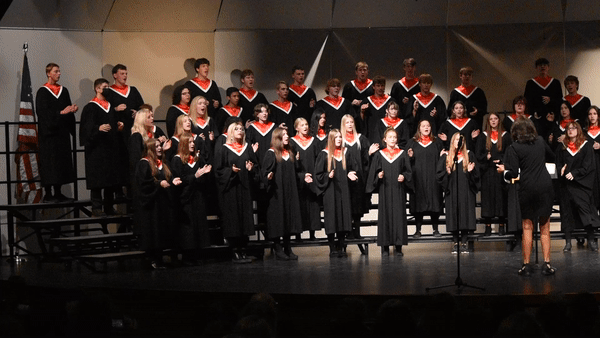 As the audience walks into the high school on Friday, October 29, they see a clump of Cannon Falls High School choir students in the atrium, preparing for the CFHS Fall Concert. The audience of family and friends filtered into the auditorium, waiting expectantly for the show to begin. 
Starting at 6:30, the choirs, directed by Sue Franke-Clark, began performing. The High School concert choir sang the Star Spangled Banner, Shine Like Stars, American Anthem, and Walk In Jerusalem. The 7th and 8th grade choirs combined for the tunes Sing For Joy, I Never Saw A Moor, and It Don't Mean A Thing (If It Ain't Got That Swing). Last, the 6th grade choir sung Music Is Everywhere (with "Over My Head"), A Fishin' We Will Go, and Solfege Samba.
After the performance of all of the choirs, there was a short break to set up the stage for the bands' performances. The choir risers had to be removed from the stage, with the help of maintenance staff, and chairs and music stands had to replace them. Percussion equipment also had to be moved from the band room to the stage. 
The band's performances started when the 6th grade band had their first performance ever. This included portraying what the first sounds on their instruments were like, (as director Mike Legvold narrated) up to the songs they polished and perfected for the concert. Next, the 7th and 8th grade bands combined under the direction of Peter Duggan to perform The Victors March and Let's Go Band II. To conclude the night, the High School concert band took to the stage to perform America The Beautiful and the New South Wales March, directed by Mike Legvold.
"
It was fun and nervewracking. It's really cool to be able to perform in front of peopl"
— angel Zheng
Last year, the band and choir were not able to meet together often, between separate cohorts of students and distance learning. Performance audiences were also limited due to COVID-19. Angel Zheng, a high school band student, described her experience performing for the first time in a year and a half: "It was fun and nerve wracking. It's really cool to be able to perform in front of people." After the concert, students are looking forward to the future. After the year of COVID, sophomore band students were unable to join in with each other for concert music or pep band. This year, both the sophomores and freshmen are new additions to the high school band. "[I hope] to be able to attend and enjoy the pep bands." commented sophomore Randi Hanson, as she has had to miss out on performances for another activity. The students have adjusted well to band and choir full-time again, getting caught up on lost time, and striving to improve even more over the coming months.