A positive goal
This year, the Cannon Falls Girls Soccer Team is trying to remain optimistic about their unique season.
Although COVID-19 has made things strange this year, the Cannon Falls Girls Soccer Team is stepping up to the challenge of having new restrictions with full force. The new rules of wearing a mask to and from practice, on the bus, and on the bench, along with social distancing as much as possible has been a difficult change for the girls this season. Having a small team makes it much easier for the girls to become close on and off the field, but COVID-19 has limited much of this extra interaction. It has been difficult for the older girls to connect with the younger girls on the team because pregame spaghetti feeds and team bonding activities are no longer allowed. Throughout this whole experience, everyone on the team has stayed positive. These girls are truly doing whatever they can to make the best of their season.
With seven games under their belt, the girls are learning what it is like to play with one another, which will be helpful for the remaining games this season. So far, the season record is 1-6, which may not seem great, but for a small growing team, it is better than nothing. Senior midfielder Lily Park stated "Even though the outcomes haven't been favorable, the games are super competitive and we all work well together." That alone shows the team's mindset of staying positive through it all. Another senior, Emma Watson, reveals that the team has "better feet." According to her, this means that the girls can pass and move the ball much better than in previous years. It may not seem important, but this is extremely beneficial, and it shows just how much the team has developed over the years. Just like every sport, it does not help to lose the previous seniors as they begin their new season, but this year's seniors have made a very substantial mark on the team.
"
Even though the outcomes haven't been favorable, the games are super competitive and we all work well together."
— Captain Lily Park
There are seven seniors on the team this year, and they are playing their final season with heavy hearts. Although COVID-19 has had a negative impact on their season, they are all thankful they are able to play as much as they can one last time. Most of the seniors have been around for many years and play a huge role on the team. Losing seven seniors next year, six of them in the starting lineup, is going to affect the team greatly both on and off the field. Relationships within this group of girls have been formed through soccer, and next year their season will be different without them. All the seniors are doing their best to help the younger girls get ready to step up next year and become great soccer players as well as great leaders. The season is flying by, and senior Hailey Newinski is hoping that she will get to finish out the season fully and not have it be cut even shorter as a result of the pandemic. The girls' next game is Tuesday, September 22nd at Pine Island.
About the Contributors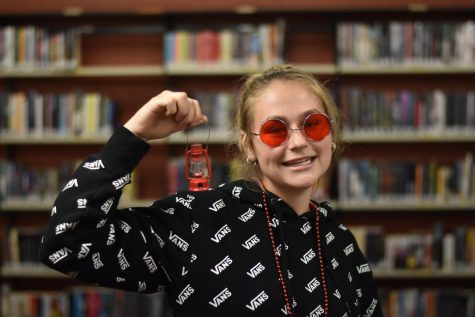 Belle Freeberg, Sports Editor
Hi, I'm Belle and I'm a junior. I play soccer and basketball and I'm a member of SADD and Interact. My go-to when I have free time is laying in my super...