A positive impact
On November 5th, students and staff donated blood to the Red Cross Blood Drive throughout the day.
Every year, the Red Cross collects around 40% of all donated blood, and approximately 6.8 million people choose to donate. Donating blood is a straightforward procedure that takes less than an hour to complete, yet it can save countless lives. It is also a vital technique to gather a diversity of blood because there are a variety of blood types and not everyone can use the same blood. 
The Red Cross Blood Drive was held at Cannon Falls High School on November 5th, 2021. Approximately twice a year, the school hosts a blood drive. This was be hosted in the school's IMC, and kids must be at least 16 years old and have parental approval to participate. 
Now, there is a multitude of reasons why hospitals carry blood: for transfusions, for cancer patients, for surgery, and so forth. For example, there are many chemotherapy drugs that can temporarily impair blood cell production and depress the immune system functions. Cancer patients will then undergo a blood transfusion to increase the number of blood cells and counteract the chemotherapy effects. 
If someone plans on giving blood, they should drink enough water, eat healthy meals, avoid fast food, and aim to eat iron-rich foods before doing so. During the appointment, donors should try to relax and possibly even listen to music if feeling anxious or nervous. After the appointment, they should avoid doing any hard lifting, and if dizziness arises, lie down until they feel better. They should also continue to eat iron-rich foods and healthful meals. Some regular blood donors take multivitamins to replenish their iron stores before their next donation as well. 
"
"It was my first time giving blood and it was a good experience.""
— Teagan Wille
Teagan Wille, a sophomore at Cannon Falls High School, stated, " It was my first time giving blood and it was a good experience. Everyone was nice and calm which helped me relax because I was nervous. I even got a juice box afterwards. Giving blood is something I would do again because it is for a good cause." Emily Barrett, a senior at Cannon Falls High School, stated," I was going to give blood but it was hard for them to find a vein. So in the end I couldn't, but there wasn't much I could do, but I am glad I tried too." Sometimes a person cannot always give blood; it could be because their iron is too low, can't find a vein, the needle won't go in, or they have another medical reason. 
Overall, becoming a blood donor can help save a lot of lives and is used for many things like cancer patients, surgeries, blood transfusion, etc. There are factors that a person should look at before and after giving blood just to make sure their body is prepared for it, and that it's taken care of after as well. The Red Cross is just one of many organizations that host a blood drive and it holds annual blood drives every year and one of the locations in the High School here in Cannon Falls. 
About the Writer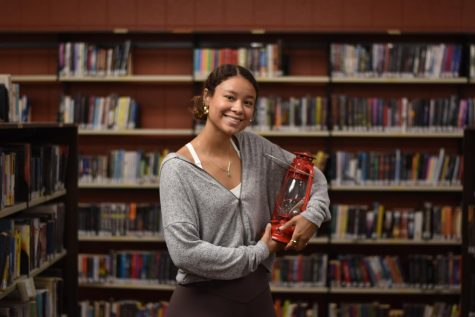 Lexie Learmann, Staff Writer
Hello all, I am one of the news writers for The Lantern. I enjoy a weekly basis of working out, hanging out with friends, and trying new places to eat....