Perhaps the most regal event hosted by Cannon Falls High School, the 2023 Homecoming coronation, occurred on Monday, September 11th at 7 p.m. in the high school auditorium.  
The kickstart of this year's homecoming week, the coronation featured more than just the grand crowning. First, the senior class flower, white carnation; motto, "Ern"; and song, "Party in the USA" by Miley Cyrus were announced. Then, emcees Grace Miller and Gavin Harrington welcomed back the 2022 homecoming monarchs King Tyler Rapp and Queen Kaytlyn Otte, who would soon pass their crowns onto the new king and queen. 
Nominated by their senior class, the privilege of being on this year's royal court was bestowed on Lily Bahr, Brekken Erickson, Randi Hanson, Talia Hustad, Kallie Johnson, Meagan Pedersen, Angel Zheng, Dylan Banks, Nick Barrett, Jacob Bigalk, Talan Duden Provost, Jackson Ekstrom, Aaron Melhouse, and Sam Shepersky. All 14 candidates took the stage next to the 2022 monarchs. "The court this year was great, I loved seeing that so many friend groups were involved instead of just a singular one," commented Morgen Brandel, a senior who spectated the event. "Coronation this year was great, it felt so cool be be watching as a senior."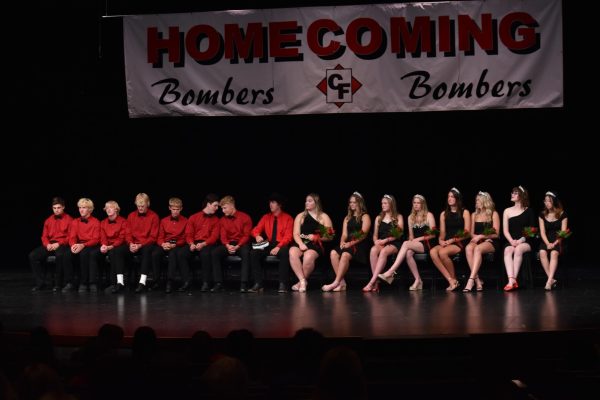 Senior Kendahl Zimmerman then serenaded the audience with a rendition of "Slipping Through My Fingers" from the Musical Mamma Mia. Afterward, coaches and captains from various teams and activities spoke about their respective groups. Coach Dan Meyers introduced the Varsity Football team followed by coach Melissa Huseth who previewed the varsity volleyball season. Athletes Torin Strecker and Kiley Jeppeson spoke about the varsity boys and girls soccer team and athlete Gavin Johnson reviewed this year's cross-country team. Then captain Kendahl Zimmerman announced the cast for this year's fall musical Beauty and the Beast Jr. followed by coach Melinda Sabelko and captain Anyka Anderson who introduced the varsity cheer team. Student council president Sara Auger concluded activity announcements by highlighting the activities for the rest of homecoming week.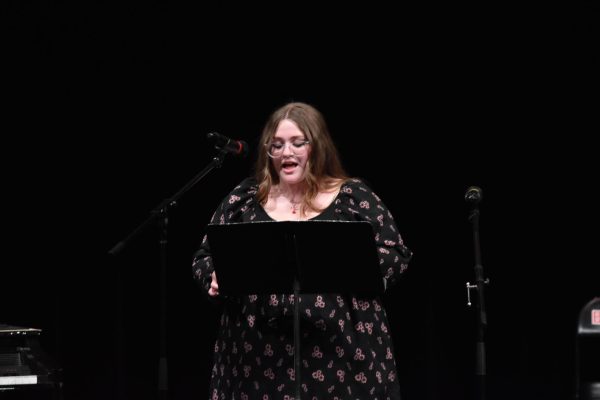 As the anticipation for the crowning built, seventh graders Anya Nygaard and Kinzley Rexac took the stage and performed a duet of "I Knew You Were Trouble" by Taylor Swift. Once they finished their performance, it was finally time to reveal the king and queen.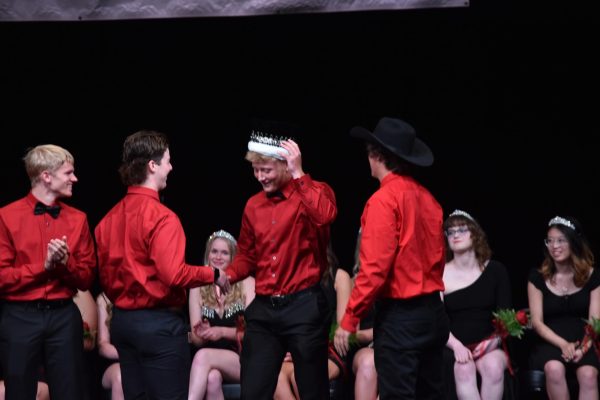 First, the boys lined up at the front of the stage as Rapp passed his crown onto Dylan Banks. Then the girls took their place — each one already adorned with a princess tiara — as Otte placed her crown on the head of Meagan Pederson, thus naming Banks and Pederson as the 2023 homecoming king and queen. "I wasn't too surprised when I won," said Pedersen, "but I was also a little nervous because you don't really know until the moment." Pedersen took an nontraditional approach to homecoming this year: running a campaign for queen. Pedersen explained why she implemented this tactic: "I love tiaras and homecoming and I didn't feel like I had much of a chance at being queen without campaigning. But I had lots of people come up to me and tell me they saw it and voted for me." Evidently, it worked. Perhaps Pedersen's success will set off a trend of queen campaigns for years to come.