A strong start
Members of the Cannon Falls Weightlifting team share their goals for the season.
As winter sports start up again, the weightlifters at Cannon Falls are thrilled to be back. All lifters are up bright and early at six in the morning before school on Mondays, Wednesdays, and Fridays ready to strive for success. This season's coaches are Scott Safe, Tad Ulrich, Matt Maki, and Joe Webster. As their first meet was coming close on Saturday, December 24th, the lifters were preparing and making sure all techniques and forms were on point. 
Seniors and captains, Colton Otto and Abby Meyers shared the meet went great for both new and old lifters. As many new lifters were nervous, Otto explained, "We had a bunch of new lifters this year and they were able to get a feel for the sport at a home meet which was nice." 
The weightlifting team has set some goals to reach for the 2023 season. Meyers shared that one of them was to show up each day and give their best effort to see the improvement they want. Otto expressed, "As a team, this year we are hoping to place first this year in the state."
Each lifter strives to get better and sets personal goals for themselves. Colton Otto described some of his ascending goals, "My personal goals are to place well at state and try to get in the top 3 at junior nationals this summer," with high thoughts he can achieve them. Abby Meyers shared, "My personal goal is to always improve on my own records and strive for more."
Otto highlighted, "My favorite lift is the snatch." He personally believes that it makes him better because it is known as a "harder" lift. Coming from the advice of his coaches, strong lifters can clean and jerk, but stronger lifters can snatch. For this reason, Otto has worked to improve and make that true. 
The Bomber's next upcoming meet is January 14th, at Lakeville South High School. With determination, persistence, and hard work the Bomber boys and girls will be ready to succeed.
About the Writer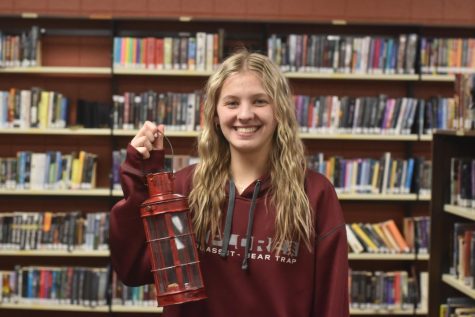 Karsyn Winchell, Staff Writer
Hi, my name is Karsyn and I am a sports writer for the Lantern. I am a sophomore and involved in volleyball and SADD. A funny thing about me is that I...