Teachers' tribute
Teachers at Cannon Falls schools banned together to create poppies for soldiers on Memorial Day.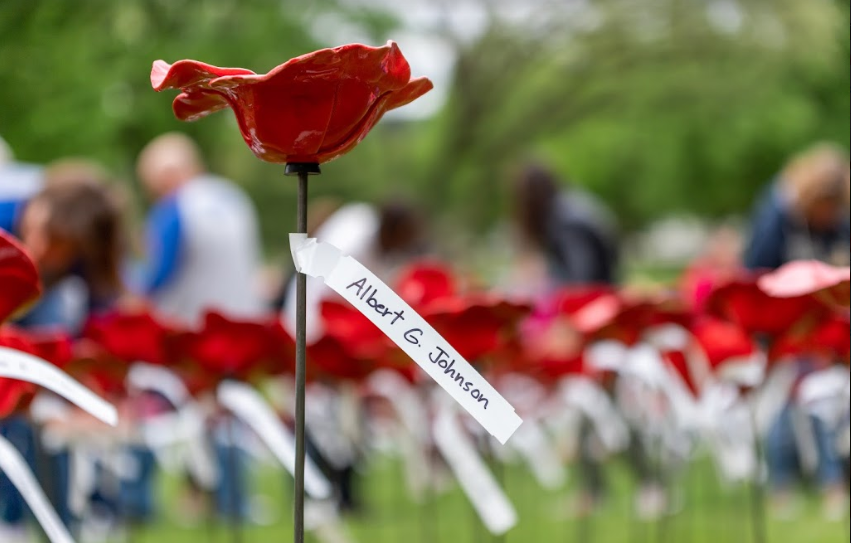 The red glossy pedals of hundreds of ceramic poppies glaze the grounds of the Cannon Falls cemetery, but not just for the sake of adding some color. Each poppy has a painful, yet sweet backstory and had been made with love and care by the Cannon Falls High School staff members. By taking a look into how, by whom, and why the artificial flowers were made, one can truly understand what the poppies really represent.

It took a long four months to finally complete all 403 poppies, and according to Mrs. Nicolette Hernke, the high school art and humanities teacher, it was a tedious process. "First, a design had to be created for the poppies. We then had to figure out how the flower would go together." Hernke was given some assistance in this process from not only the school workers, but her brother, Matt Meyers. He created a custom cutter for the design of the petals so that it was much easier for everyone to cut a proportional flower. The next steps of the process began with ordering supplies and rolling the slabs to cut the petals from. Each flower was formed, then dried, and then bisque fired. The poppies then had to be glazed and glaze fired, but that's not all. Hernke states that the ceramic flowers had to be placed onto metal stakes, which were made by Mr. Mark Wolter, the high school construction and shop teacher. Although Mrs. Hernke and Mr. Walter played big roles in getting these poppies ready for presentation, their hands weren't the only ones on deck during the process.
"It took forever to make them, but it felt good giving back to the community and showing our support for fallen veterans," said Mr. Jones, the high school physical science teacher. Although making the flowers did require a lot of time and work, many staff members stated that they had a fun time making them and it didn't feel like work and they had a lot of fun on the job, but the staff didn't just make the poppies to have a good time. They made the flowers to honor certain members of our community.
"
This is a small gesture compared to the sacrifice of our veterans and a great opportunity for our Cannon Falls Area Schools to show our appreciation for our veterans"
— Nicolette Hernke
"This is a small gesture compared to the sacrifice of our veterans and a great opportunity for our Cannon Falls Area Schools to show our appreciation for our veterans," says Hernke. Poppies have been associated with the remembrance and support for the fallen and active soldiers in the Armed Forces. "Sometimes I feel like Memorial Day is just looked over and is used as a holiday to have a barbecue with friends and family and people forget the real meaning of it," says Lauren Johnson, a freshman at Cannon Falls high school. "I think that since the teachers made all of those flowers, people will actually know the real way Memorial Day should be celebrated." Now that the staff members have made such an outstanding effort to honor the soldiers of the Armed Forces, people will hopefully understand what Memorial Day really represents.
On Thursday, May 23rd, 403 poppies were placed in the Cannon Falls cemetery. Each one adding to the patch of shiny, ceramic flowers that individually honor a different person. Although Memorial Day may seem like the perfect time to have a family get together to grill some food on the usually warm weather day, it is also a time to honor the fallen and serving soldiers of the Armed Forces. The Cannon Falls School staff members did a great job of honoring those soldiers by making all of those poppies. For four months, the staff members have spent countless hours following multiple, intricate steps to create these beautiful poppies, and although it wasn't their main intention, many people finally understood what Memorial Day was all about.