A walk(ing taco) in the park
Humanities students will serve tacos at John Burch Park to raise money for their trip to Europe
On Saturday, October 1st, from 3-6 p.m. at John Burch Park, the Cannon Falls High School Humanities class will be serving walking tacos as a fundraiser for their upcoming trip to Europe.
After two years of absence — due to the pandemic and a lack of interest — Humanities is finally back in session. The class is a great, unique opportunity for students, especially since it strays away from the structure of a typical course. The class follows the AP Art History curriculum and prepares students for the AP exam in May. Because it follows an AP curriculum, the class is taught in lecture style with a very rigorous structure. Essentially, Humanities combines three core subjects: art, english, and history. It takes both art teacher and an English teacher, Ms. Hernke and Ms. Winget respectively to cover every topic, which is different from the typical single-teacher class. Additionally, each semester, students are required to pick an influential piece of art from history and replicate it or use it as inspiration for a project. Students are required to invest at least 40 hours in creating their projects. "There is also lifelong learning in this class, things the students may not realize for ten or fifteen years. I love talking to past students and hearing how this class has helped them in college or their careers," co-teacher Hernke reminisced. 
Along with the knowledge gained from this class, students who are enrolled are given an opportunity to travel to Europe after school is out in May. This year, they will travel to London, England; Paris and Versailles, France; and Rome, Italy. At each place, travelers will get to explore the city and go to a plethora of museums where they can see the art they learned about in person. For most, this is the best part of the class. Junior Kendahl Zimmerman is especially excited: "I've never traveled outside of the midwest, and now I get to go to Europe. Not to mention all the art I'll get to see in person, especially in the Louvre." Even the teachers are appreciative of the trip: "It's important for the students to see what they learned in person for it to really stick," Hernke commented, "plus many kids haven't flown anywhere before and this trip really makes traveling abroad look less scary."
In previous years, the class has planned a formal dinner — known as "the Humanities dinner" — as their annual fundraiser. This year, Hernke had a new idea: "The Humanities dinner was very labor intensive, and I thought this would be more fun and make just as much, or maybe more, money." Instead, the class has invited the community to join them in John Burch Park in Cannon Falls on Saturday for walking tacos and live music. Community members are encouraged to bring a chair or blanket and stay a while to listen to the local band, "Run of the Mill" while munching on the tacos prepared by Nick's Diner and served by Humanities students looking for funds to help pay for their trip to Europe. "I'm happy we are having the fundraiser," Zimmerman said, "I'm excited about our trip but it is quite expensive, the donations will be a big help to get us there."
About the Writer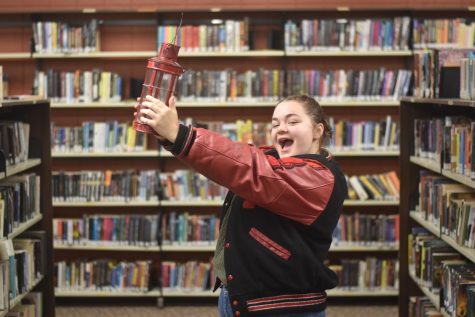 Sara Auger, News Editor
Sara Auger is a sophomore lantern writer and editor. Her favorite activities include listening to music so loud she gets hearing damage and driving 30...