Above and beyond
CFHS students Angel Zheng and Lauren Ritz have recently received impressive awards.
The National Merit Scholarship is an honor that very few students In the United States can receive. The scholarship program recognizes and provides financial aid to only the top scholars. It is earned by getting an exceptional score of 216 on the Preliminary Scholastic Aptitude Test (PSAT). The National Merit Scholarship competition honors academic achievement and excellence; only 1.25 percent of test takers can become a semifinalist. In 2022, there are 16,000 semifinalists, including a Cannon Falls senior, Lauren Ritz. 
The honor is one that only 3 students from Cannon Falls have earned and Ritz is the first semi-finalist since 2018. "It's really exciting," says Lauren Ritz. "When I took the test I didn't expect to score that well. I was mostly taking it as practice for the ACT, so it was a pleasant surprise when I found out I was a semifinalist." Of these National Merit semifinalists, 15,000 out of 16,000 students are chosen to be finalists based on their extracurricular activities, accomplishments, academic achievements, and special skills. As the competition progresses, these students will have the opportunity to receive corporate, college, and National Merit scholarships. Ritz's achievement is a reflection of her hard work and distinguished academics and is an extraordinary accomplishment. 
Another astounding achievement from a student at Cannon Falls High School was recently earned by junior Angel Zheng, who was awarded the Gary Sanchez "Swing for the Fences" scholarship. This scholarship was formed by Sanchez, a catcher for the Minnesota Twins, and is given to high school students of color living in underrepresented communities to help them pursue higher education. Through this scholarship, Zheng has received 10,000 dollars to go towards her future academics and schooling in psychology. 
"I am really excited to receive this scholarship," says Zheng. "I really appreciate it and I worked really hard to receive it." Angel was one of three girls to be selected for this scholarship, and it is a great distinction to receive. She will be honored and officially awarded this scholarship on Target Field at the Minnesota Twins game on September 23rd. 
About the Contributor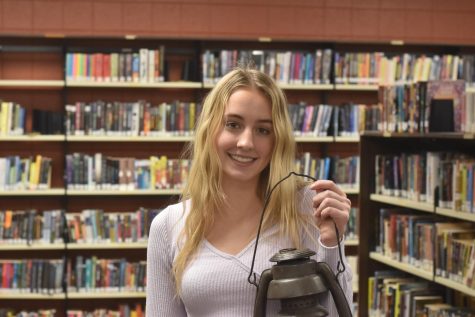 Maddie Becker, Features Editor
Hi, my name is Maddie and I am a senior editor for the Features category! I am involved in both the school dance team and the Shoreline dance studio in...