Adventures await
For Gaia Bergamaschi, an Italian foreign exchange student living in Cannon Falls, life in America has been an unforgettable experience.
Exploring new ideas and things can be exciting for some people, yet nerve wracking for others. Some people may like to stick to their usual routine for their personal reasons. However, those who love to explore can create many opportunities such as new friends, favorites, places, and a great experience. Gaia Bergamaschi did precisely that; Instead of doing something small like visiting a new restaurant, Bergamaschi went to live in a different country without the people she had known most of her life. Coming from Italy, Bergamaschi came here, to Cannon Falls, Minnesota as a foreign exchange student.
Living in Cannon Falls for a few months, Gaia Bergamaschi is a new senior at Cannon Falls High School. When she first came, she felt welcomed by the school, but it still was quite different from what she was accustomed to. One of the biggest differences Bergamaschi saw according to her was "…definitely the use of the car." Since Italy has more cities rather than rural areas, she often walked a lot more than drove. Cannon Falls, however, is more spread apart, so it's easier to drive than walk. Another difference Gaia found during her stay in Cannon Falls was the food. "The quality of the food in Italy is fresher [versus the United States' food]." Along with differences, there are a few similarities, one being the school activities as both Italy and the United States have a variety of school activities for students to choose from. Gaia couldn't have known these similarities and differences without having first hand experience in the United States.
When Bergamaschi decided she wanted to go to a different country as a foreign student, she had to choose between two different countries. "Before I left I was very unsure about where to go. I was unsure between Norway and the United States. In the end I chose the United States because I weighed they could give me a very different experience from my life in Italy." Bergamaschi's life in Italy was quite different from one's life in Cannon Falls. Instead of a small city, she lives in a big city called Milan, in Northern Italy. A lot of the food that she eats there is of Italian origin and there is one type of food that she favors. "My favorite Italian food is probably the lasagna. It's my favorite because I have so many memories related to it and because it's just too good." 
Reminiscing on her life in Italy, Bergamaschi has had some unique stories to tell. For example, she experienced falling asleep on the bus in the city, missing her stop, and having the bus driver have to wake her up at the end of the line. When asked about another memory from Italy, she explains. "Another fun story happened when a friend of mine had COVID. This friend of mine had been quarantined for more than two weeks so we went to her house and ate together, her on the balcony and us on the sidewalk." Even though Milan has offered many fun memories, Gaia Bergamaschi also has formed a lot of new memories in Cannon Falls.
As a foreign student, Gaia Bergamaschi was welcomed into Cannon Falls and she was able to try out new activities and experience, one including basketball. When asked about her time on the team, Bergamaschi joined the Cannon Falls basketball and found it really fun and she felt welcomed by the girls on the team. She also viewed them as a great group and felt really lucky to be a part of the team. Another experience Bergamaschi had while being in the United States, was going to Florida. "I went to Florida with my host family for 5 days and we had a great time. We went to Orlando and stayed warm in the sun, then came back to the cold in Minnesota." There hasn't been much else that she has done in Cannon Falls yet, but she does enjoy just seeing the differences between the two countries while being here.
Gaia made a huge choice when going to the United States from Italy as a foreign student and so far, she hasn't regretted it. Seeing the similarities and differences between the United States and Italy is one of the biggest things she's noted so far during her stay. Bergamaschi has also had her own experiences in Italy and the United States alone that make them both fun for her and her experience showcases how beneficial taking new opportunities can be. After Gaia goes back to Italy, it's highly unlikely that she'll forget her meaningful, and different experience here. That's why it is important to seize new opportunities and gain knowledge and moments that will never be forgotten. 
About the Writer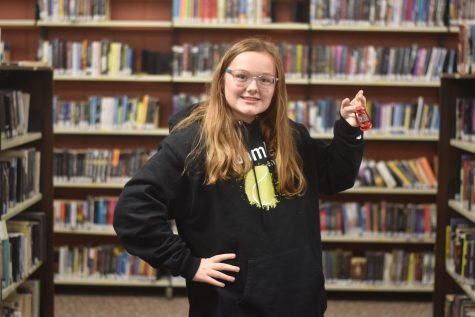 Cara Erickson, Staff Writer
Hello! My name's Cara Erickson. You might often see me invested in a book that may sound innocent until you actually see what I'm reading. I love to spend...