The sun will come out tomorrow
Presented by the Children's Theatre as their 2021-2022 season opener, Annie was a smashing success.
In 1885, the poem "Little Orphant Annie" was written by James Whitcomb Riley and would later serve as inspiration for what soon became one of history's most well known comics: "Little Orphan Annie." Upon its debut in early August of 1924, the "Little Orphan Annie" comic, authored by Harold Gray, sustained popularity until a steep decline, ending a nearly hundred-year run of the comic in 2010. However, over the course of Annie's life in comic strips, her show life was evolving as well.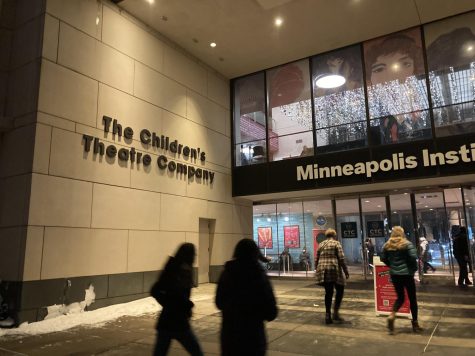 Originating as a radio drama series in 1930, the "Little Orphan Annie" storyline snowballed, morphing into a 1932 film adaptation, which was closely followed by another film released in 1938. It wasn't until 1977, though, that "Little Orphan Annie" dropped the "Little" and the "Orphan," becoming the iconic Broadway musical that remains well-known to this day. Running for nearly six years, Annie inspired productions in theaters far beyond American borders, and won seven Tony Awards by its conclusion. Honoring the legacy Broadway's Annie had built, Columbia Pictures released a film adaptation of the iconic musical. Recreated twice more, once in 1999 and once in 2014, successive films recaptured the spirit of the original Annie and brought a revised version to modern audiences.
First produced by the Children's Theatre Company of Minnesota in 2011, Annie was immediately showered in praise, receiving rave reviews from every direction. Now, after an extended break courtesy of the COVID-19 pandemic, Annie is back. While masks and vaccines are required for entrance to the theatre, the show's performers managed to transport viewers out of the COVID era and back to the 1930s, a time of strife no doubt, but a time that, for viewers, was accompanied by the uplifting story of spunky young orphan.
Annie's story begins in the orphanage where she and her friends reside. Day in and day out, they are forced to work by the contemptible Miss Hannigan (Emily Gunyou Halaas). When she's not scrubbing floors and folding laundry, Annie (Audrey Mojica) is dreaming of a future far, far away from Miss Hannigan, a future where she an her parents—who left her on the orphanage's doorstep with nothing but half of a silver locket and a lettering promising their return—have been reunited. However, life has other plans for her. On one fateful winter's day, Grace Farrell (Janely Rodriguez) arrives at the orphanage, looking for a young orphan to spend Christmas with her immensely wealthy employer, Oliver Warbucks (JoeNathan Thomas). Looking to dabble in philanthropy, Warbucks takes Annie to his home for the holiday season and the two form an unbreakable bond that results in Annie's adoption. 
Throughout the course of Annie's story, the audience is enraptured with the events on stage.  John Fogarty, who recently viewed the production, observed that "The sets were really clever; at one point they had a model car driving across the background, which was a very interesting addition to the show." Set elements like falling snow, dingy-looking laundry carts on wheels, and festive Christmas trees combined with a richly decorated grand staircase and a massive sign for the Roxy movie theater bedecked in blazing light bulbs to give every scene an entrancing environment. Costumes only aided the cause, with crisp-pressed suits contrasting with the rumpled and threadbare clothes of orphan children to illustrate the wealth disparities hosted by the Great Depression with stark clarity.
"
Annie is about the indomitable spirit of children to transform the world with their optimism and love."
— Peter Rothstein
The Children's Theatre's Annie, though missing the iconic red curls, makes up for her character's absent trademark with a cheerful and plucky demeanor; building a character that is just as ready to fight with and lie to those she meets as she is to greet them with a smile and a hug. Not to mention, any discrepancies between her character and the icon that the traditional Annie has become are made up for by her powerful, hopeful voice, in which she belts out classics like "Tomorrow," "Maybe," and "Hard Knock Life."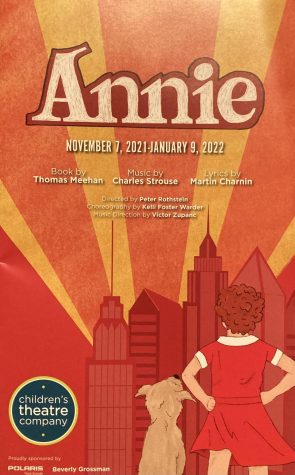 Annie wasn't the only character who showed up musically, though. Miss Hannigan also made a strong showing, along with her brother "Rooster" (Reed Sigmund) and his fiancé, Lily St. Regis (Autumn Ness) in "Easy Street," the production's delightfully evil ballad. Paired with songs of optimism like "I Don't Need Anything But You" and "You're Never Fully Dressed Without a Smile," the show's song list gave viewers with all of the tense contrast and uplifting melodies they could hope for in a production. Luckily, the message of optimism wins in the end. As Director Peter Rothstein puts it, "Annie is about the indomitable spirit of children to transform the world with their optimism and love…a celebration of non-traditional families—and that's worth singing about!"
Fellow viewer Shelly Ritz reflected Rothstein's sentiment, expressing that "Annie was wonderful, very uplifting." Overall, though, not only was the production uplifting, it was also a skillful rendering of a timeless classic. The admirable pluck of the orphans, unending generosity of Mr. Warbucks, evil persona of Miss Hannigan and lovable innocence of Annie presented audiences with an unparalleled repertoire of characters. At the end of the day, viewers were not only left with the memories of a skillfully composed show, they were also left with a reminder that "the sun will come out tomorrow."
About the Contributor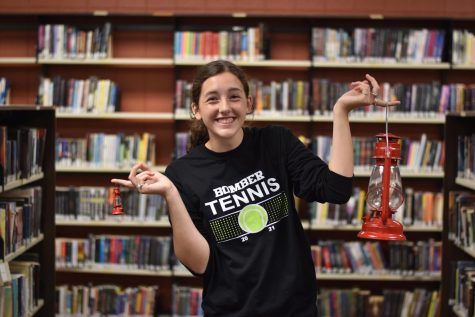 Lauren Ritz, Editor-in-Chief
Hallo vrienden! Mijn naam is Lauren en ik ben een EIC voor de Lantaarn. Ik ben eigenlijk geen Nederlander, hoewel ik graag een keer naar Nederland zou...