Online endeavors
In this next step of online learning's evolution, many CFHS students are taking online classes as part of their in-school schedule.
During the Covid years of full-online classes and distance learning, students were forced to learn how to adapt to at-home learning and online coursework. While many students preferred the in-person learning experience and anticipated coming back to school, other students favored the at-home online classes. Following the pandemic, the introduction to online learning caused many students to switch to online courses; some filled parts of their schedules with online courses, while others switched to an online school altogether. 
The biggest attraction of online classes for students today is the opportunity for a flexible schedule. Senior Mia Halling expresses this, saying "Having online classes has allowed me to be able to multitask and get other things around the house done, as well as my homework." For many students, going home is their favorite aspect of online classes. "Being able to go home is my favorite part of online classes," says senior Tristin Qualey. "It is convenient to be able to go home when I need to." Students' flexibility also comes with the opportunity to choose an environment that is most beneficial for learning. Whether it's sitting in a busy coffee shop, or studying in a quiet room space, students are given the choice to choose a workspace that is best for them. 
Although going home and choosing a workplace is a huge perk for many students, online learning also teaches students many valuable skills, including how to effectively manage time, how to stay self-motivated, and how to learn at a comfortable pace. "For my learning, I like to work at a slower pace.," says senior Kalee Anderson.  "Online classes let me take my time to actually learn the material, instead of rushing to meet a deadline." Self-paced learning enhances students' memorization and quality of work and gives students an adequate amount of time to complete their assignments. 
"
For my learning, I like to work at a slower pace
— Kalee Anderson
Along with gaining important skills in managing time and staying on top of schoolwork, online classes also allow students to take classes that aren't available. Online schooling offers a multitude of diverse classes for students to take, that are tailored toward many different interests and subjects. "Being able to take nutritional wellness is something I could never take at the school," says junior Kallie Johnson. "Being online has helped me choose classes I'm interested in." Online courses are a great way for students living in small communities and attending small schools to branch out and take different classes of specific interests. "Cannon Falls has a great selection of humanities courses, but there are not as many science courses," explains senior Teagan Strecker. "Through online classes, I was able to take AP Chemistry, AP Computer Science, and Meteorology, which are not offered here." The freedom to choose what is suitable for a student's academics and career interests keeps students engaged and eager to learn.
Virtual learning has gained the attention of students and has shown many advantages, including learning how to manage time, work with technology, and independently solve conflicts. Students are also allowed to manage more of their learning; including scheduling, workload, and workspaces. As technology advances, online learning teaches students technological skills and literacy. The immense benefits that come with online classes prove that going home and having a flexible schedule are not the only advantages of taking online courses. 
About the Writer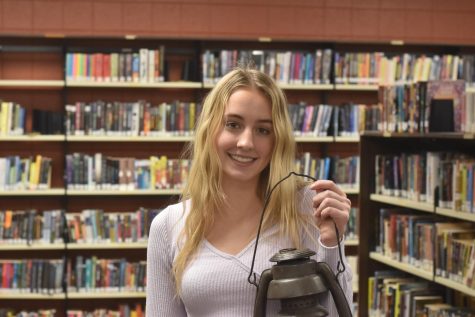 Maddie Becker, Features Editor
Hi, my name is Maddie and I am a senior editor for the Features category! I am involved in both the school dance team and the Shoreline dance studio in...