FFA, and I'm not talking about farming
A Lantern review of the 1966 novel Flowers for Algernon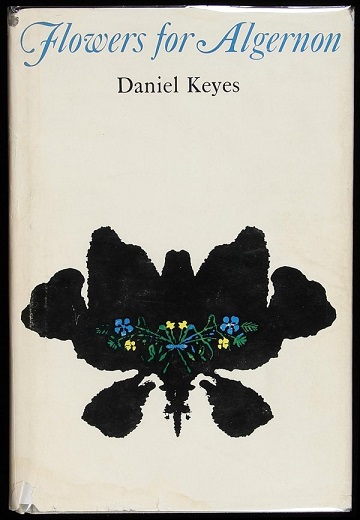 Hang on for a minute...we're trying to find some more stories you might like.
"Even a feeble-minded man wants to be like other men."-Daniel Keyes, Flowers for Algernon
As teenagers, we often struggle with homework, finding a date to a dance or some other made up cliche excuse that makes us lazy, unwilling to learn. Try being a 32 year old mentally delayed man with an I.Q. of 68 also struggling, but wanting to be a genius. The author, Daniel Keyes, also known for other books such as The Minds of Billy Milligan and The Touch, has organized Flowers for Algernon into one of his more peaceful books. So tune in as I paint a picture of the 1966 novel.
The story is told through a series of journal entries that is written by the main character, Charlie Gordon, who works as a janitor at a bakery. He is chosen to go through a surgical experiment that will increase his understandings. The technique had already successfully been tested on Algernon, a lab mouse. Charlie's I.Q. triples quickly as the surgery was also a success on him like Algernon. As Charlie's knowledge increases, he realizes he is falling in love with his former teacher, Miss Kinnian, who taught a literacy class at the Beekman College Center for Retarded Adults. Charlie also realizes that his co-workers at the bakery only pushed him to stay around so they could pick on him. (His studies are taken overboard as his brain regresses to its normal state.) He doesn't want anybody to pity him so he states he plans to "go away" and move to a new place.
"I felt bad for him because he was so intelligent but he really had no one," Mari Mendivil, a freshman, comments respectfully, "I thought it was interesting that he was able to learn everything so quickly and then everything he learns, he forgets and loses." The 1959 short version of this novel remains in the heads of many high-schoolers as most have read it as a class in 8th grade. Mrs. Davisson's literature books contain the novel's short version so the 8th graders this year should be filled with anticipation as it awaits them. Flowers for Algernon is not only an astonishing hit in its novel structure, but also as a 1968 and a 2000 movie adaptation.
It would be quite bright to store a few tissues in your pocket or on a table nearby as some of mine were needed to be used. People will feel from the detail in the journal entries to the love shared that your eyes are bound to let some tears sneak their way out. From a pitiful man to an intellectual genius, then back down to a pitiful man, all of your emotions towards him will truly be spinning.