AP-pealing courses
Unlike many rural students, high schoolers at CFHS have a wide variety of AP coursework available to them.
Having a strong college application, being fully prepared for college, and deciphering the financial aspects of college are a few topics that are heavy in students' minds. Working towards acceptance in difficult colleges and worrying about their affordability is a common issue for many scholars. While these concerns can cause anxiety in many students, there is one solution offered to alleviate the worries: AP classes. 
For many Cannon Falls students, Advanced Placement classes are a difficult, but rewarding way to earn free college credit while engaging in rigorous, challenging coursework. Although Cannon Falls High School is not one of huge size, the diverse array of AP classes offered to students surpasses the typical number offered in small, rural schools. Courses including AP Biology, AP U.S. History, AP English Language and Composition, AP English Literature and Composition, AP Calculus AB, AP U.S. Government and Politics, and AP World History are some classes that students can take at the school whilst receiving direct, in-person instruction. Other AP classes, including AP Computer Science and AP Psychology are also offered through outside resources including ITV and online classes. 
AP classes offer a variety of benefits for students, including challenging coursework, personalized instruction, and their main appeal: the possibility of free college credit. Throughout the year, students engage with college-level information to prepare for the Advanced Placement exams that take place in early May. Having the opportunity to learn at a college level while still receiving direct and individualized instruction is a great way for students to fully prepare for college and improve their education. Senior Kyra Schoenfelder emphasizes this, saying that "I enjoy the atmosphere AP classes offer because I believe they have given me an idea of what college classes may be like. Because of their vigor, they have required me to be on top of my schoolwork, which has in turn given me the ability to manage my time effectively."
Getting ready for college, AP classes also strengthen students' applications and create a more desirable transcript. Being involved in challenging classes shows colleges' dedication to academics and working through hardship. AP classes can also boost GPAs, helping students potentially earn a GPA above 4.0. "I enjoy that it improves my transcript for college," says senior Taylor Johnson. "I think it makes me a more desirable student to colleges because I am engaged in challenging courses." At the end of the year, students then have the opportunity to take the Advanced Placement test. For many colleges, a score of 3 or above can earn them partial or full college credit for the corresponding class. 
The benefits of college classes appeal to many students because of the transcript boost for college and scholarship applications, the aid towards student readiness for college, and the potential for free college credit, creating a huge advantage for students who take them. Cannon Falls High School offers a multitude of AP classes, which is something in which many students can take advantage. 
About the Contributor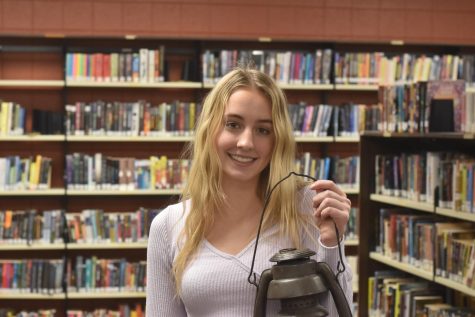 Maddie Becker, Features Editor
Hi, my name is Maddie and I am a senior editor for the Features category! I am involved in both the school dance team and the Shoreline dance studio in...