Back with more Bridgerton
For fans of Bridgerton's season one, season two is sure to please.
Season two of Bridgerton released on March 25th follows the slow burn love story of Kate Sharma (Simone Ashley) and Anthony Bridgerton (Jonathan Bailey). Most people fell in love with the Bridgerton family in season one which focused on Daphne Bridgerton. Now, it is her older brother's turn to find a partner. The one woman Anthony has his eyes on is the diamond of the season Edwina Sharma (Kate's younger sister). Also, Lady Whistledown is back and better than ever, spreading gossip all over the town. 
This season of Bridgerton was drama filled as romance blossomed and the hunt to reveal Lady Whistledown continued. Kate and Edwina Sharma surprised the town by showing up for the new season of romance after their mother had abruptly left for India many years ago. The Sharma family is sponsored by the lovely Lady Danbury, who is able to convince the Queen to make Edwina the renowned diamond of the season. While Anthony wants to win over Edwina he must also make Kate like him, stirring feelings between the two. 
Anthony was a very complex character. He tries his hardest to take care of and support his family but he likes to hold a cold exterior. Kate is similar in that everything she does is to better her family. Despite this Kate is not looking for any kind of relationship and is set on being a spinster. Although Anthony and Kate were interesting my favorite character was Penelope Featherington(Nicola Coughlan). Penelope was witty and I loved her story line as a struggling wall flower that doubles as Lady Whistledown. 
The first season of Bridgerton is still the best in my mind because no one can beat Daphne and Simon. Furthermore, Anthony's love story was too slow for me and there were only a few moments in the last episode of season two where Anthony gets to be happy with his wife. The romance in this season wasn't as sweet and happy as I would have liked. People who love a slow burn romance will like this season. 
Bridgerton season two was still great and I would recommend that lovers of the first season watch it. If the show continues to follow the books the third season should be about the second eldest son Benedict finding his true love match. One can only hope that Bridgerton is able to run for many seasons so each sibling can find their happily ever after even if Lady Whistledown is standing in their way. 
About the Writer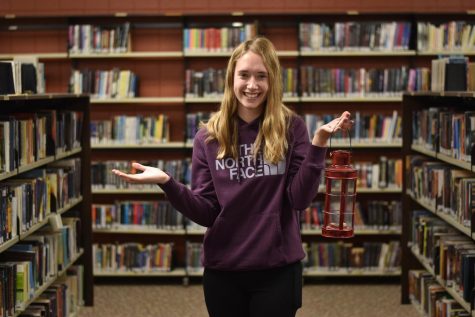 Cassidy Maneval, Staff Writer
Hi, my name is Cassidy Maneval and I am a senior in high school. I enjoy reading and hanging out with my cats.