Behind the scenes
Many people must work hard behind the scenes of a high school play to ensure a successful performance.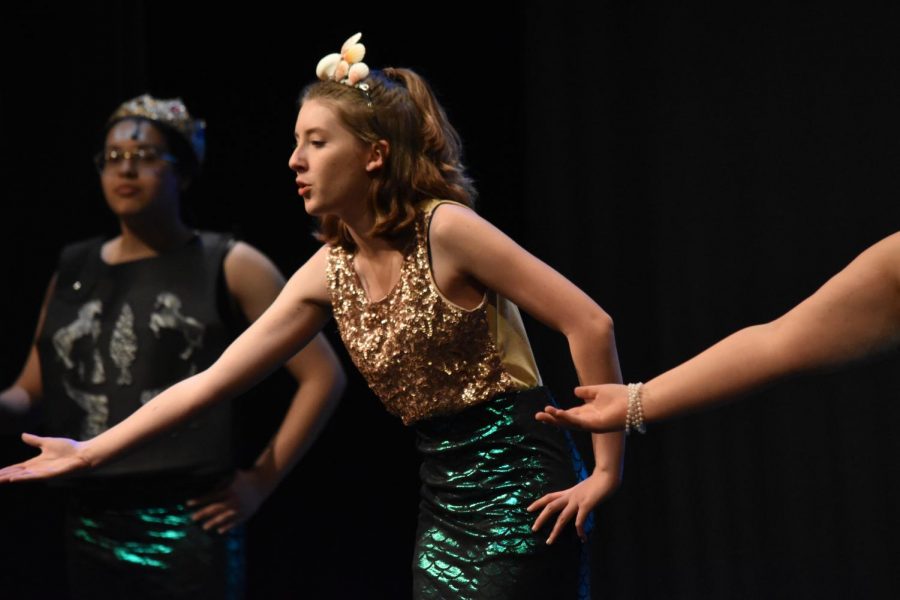 The musical is a yearly staple of Cannon Falls High School, where people of all ages are told to silence their phones and enjoy the show. This year, the theater department is putting on The Little Mermaid, which is a classic story about Ariel, a mermaid who longs to be part of the human world, and her journey to find true love. Many people will go see the performance, but what they see is only a fraction of what it takes to put a show together. In truth, it takes weeks of practice, preparation, planning, and pressure to pull a show together. There are a variety of roles that must be played both on and off the stage, and many hardworking, dedicated people to fill these jobs.
This is Courtney L'Heureux's first year as a director at Cannon Falls and it has given her a lot of responsibilities. As the director, she has to coordinate costumes and background set pieces, plan where and how people will move during scenes, choreograph dances, keep the school and parents updated with the process, and promote the show as much as possible. Being a first-year director has posed some specific challenges for L'Heureux. According to her, she has been working with a bigger stage, more cast members, and an actual tech crew. Additionally, she has to make sure everyone is on the same page so they don't run into problems. She feels the biggest challenge of all is making sure that everyone involved is having fun and working hard on this production. For the most part, each of these challenges have been overcome, but there is one major setback L'Heureux has experienced: time. Even though the show's opening is barely a week away, there is still a lot to do. As they are drawing closer to the finish line, she wants to make sure they have enough time for the performances run smoothly. When asked what their "game plan" was for the next few weeks, L'Heureux stated, "The game plan is to do run-throughs like crazy! The more run-throughs we do, performing will come naturally and the cast will be more comfortable and confident. This applies not just to the cast, but the pit band and tech crew as well." Despite the challenges and time restraints, L'Heureux is confident everything will pull together. She doesn't expect any complications to arise before the show, but is ready to face them should they appear.
As the stage director, Noah Muhlhausen has a multitude of jobs to do. He's been working on costumes, getting the prop room ready for the show, and figuring out the show's props. On the whole, he has had plenty of success, but it hasn't always been smooth sailing. One of the cast's biggest obstacles has been regrouping after a few people quit the show. As a result, Muhlhausen was forced to take on the role of King Triton midway through September, meaning he had lost weeks of practice. It was a setback, but everything is back on track and the show is looking much better. However, there is still a lot of work to be done. A few costumes need to be finished, some scenes need some work, and the set needs a lot of attention. Although he believes the fear of opening night and the stress of everything not being done will be a future difficulty, Muhlhausen is hopeful that the show will look amazing by the time opening night rolls around.
Based on the hard work and what the people behind the scenes say, it's safe to say that the show will leave you speechless. Performances will be from November 7-9 at 7:00 pm and on November 10 at 2:00 pm. So, that means there's only one thing left to say: "Please silence your cellphones and enjoy the show.
About the Contributors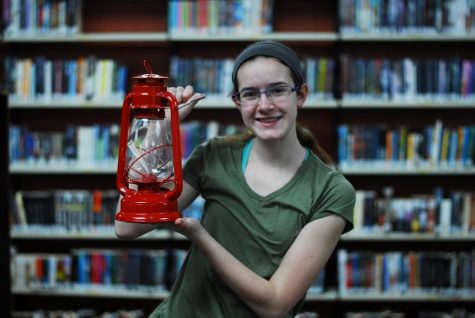 Lydia Pedersen, Torch
Lydia is an 8th grader who loves engineering and architecture. She is in Speech, Track, and the Fall musical. Some of her favorite pastimes include reading,...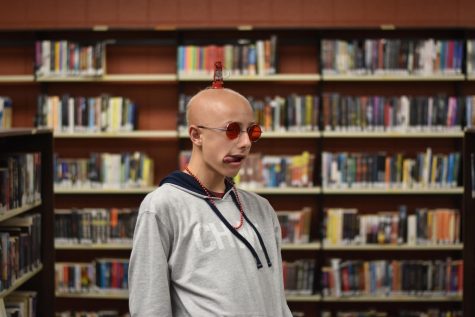 Nathan Baszuro, Photography Editor
Hi I'm Nathan, I am in 9th grade. I like to eat a lot. I participate in speech, soccer, yearbook, choir, and the Lantern. I want to be an actual editor...