Bona-fide bowlers
As an extension of CFHS's specialized learning program, students can participate in the Goodhue Gopher bowling team.
The Goodhue "Gophers" co-op Adapted Team bowled their way to a state championship on May 13th, 2022, competing against 483 participants from 265 schools at Bowlero in Brooklyn Park. For the first time in the program, the team of 13 bowlers from the schools of Cannon Falls, Zumbrota-Mazeppa, and Goodhue, had every member of the team qualify for the state tournament. All members of the team competed in singles,  two members competed in doubles, and 8 members competed in the team category.  From Cannon Falls, Senior Gage Robinson broke multiple personal records at the tournament competing in the cognitive impairment. Sophomore Naomi Bretchal took 10th place in the individual's physical impairment category and ended her season very successfully. Finally, with a whopping score of 1,691 pins, the teammates Junior Jesse Mosser, Senior Karter Bradford, Junior Tyler Troolin, and Senior Cody Bergeson earned the state championship, beating the runner-up by 70 pins in the ASD (autism spectrum disorder) division. The bowling teams ended the season on a high note, breaking many personal bowling averages and showing great improvement throughout the season. 
Jess Ferguson, coach of the Goodhue County Adapted bowling team, reflects on her year as coach of the talented team. "My favorite part of coaching this team is that it's never the same day twice. Our bowlers always come excited and ready to bowl! I enjoy seeing relationships form amongst all three schools. We also have a fantastic group of support staff that help make this program possible." The team practiced every Monday and Tuesday at the Bierstube Bowl & Grill and worked extremely hard to achieve a successful season. A celebration to honor the achievements of the team, award letter winners, and to show recognition to the state champions and medalists are going to be held on May 25th and will mark the end of the Goodhue Gopher's victorious season. 
Bowling is not the only activity these kids excel at. Having taken part in the special Olympics in previous years, Gage participates in several activities all year round- swimming and playing flag football. Cody is involved in multiple plays all year round including The Little Mermaid, Frozen, and many others. Jesse takes part in Eagle Scouts and recently completed a project in constructing an outdoor classroom in the school forest . Busying themselves throughout the year, the teammates are filled with well-rounded individuals who bring a multitude of skills to the team. Supporting them through the activities, the special support staff members, and programs have helped them succeed in their endeavors. 
Throughout the school, student support services are implemented everywhere to help students with needs reach their fullest potential. In these programs, students learn a slew of skills to help them be successful both academically and in their future work life. From specialized math and English programs suited to the students' learning needs, to transitional classes that teach students how to complete job applications and interviews, the program does an exceptional job at preparing students for prosperity. Through these programs, students also form lasting friendships and connections, both with students and support staff. "Mrs. Thurman would go the extra mile to make any of her students successful," says one of her students. "All of the teachers care a lot about their students and they help us graduate."
Through the program, staff has many varying roles and contributions. Teacher Lisa Endres gives a special appreciation towards the paraprofessionals that support many students in the classrooms. "We couldn't do our jobs without them. When they're gone, it makes our day a totally different day. They are the ones in the class with the kids and doing amazing things to help them. This helps the kids form really good relationships." With paraprofessional support, students are motivated to stay on task and are provided with assistance and aid on assignments and schoolwork.  Through paraprofessionals,  students form a trusting relationship and have an established foundation of aid to help them thrive. 
Specialized learning programs suited to students needs help guide individuals toward success, both in the current and future. Following the program, students have gone on to work in various fields, including a student in the police training program and numerous students in manual labor, linemen, welding, cosmetology, and family business. Students have also continued their education through the STEP program in Redwing where individuals age 18-21 learn critical post-educational skills for independent living and identify employment opportunities.
Having a hearing disability and receiving special support throughout my entire life, I understand the impact these programs have on an individual. As difficulties have arisen, having a network of support to help me work through complications has had an extremely positive influence on my life.  Through Student support services, I  have formed life-long relationships and have been exposed to resources that I would never be able to individually discover. With immense effort and perseverance in both academics and all activities they are involved in, these kids have shown what true winners look like. 
About the Writer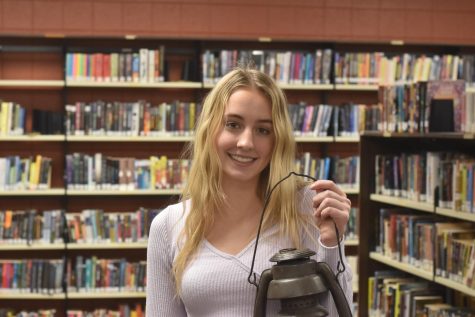 Maddie Becker, Features Editor
Hi, my name is Maddie and I am a senior editor for the Features category! I am involved in both the school dance team and the Shoreline dance studio in...