Bringing back the music
The 7th and 8th grade band finally hosted their first, and possibly only, concert of the year.
The Choir concerts happen every year, approximately two times a year if possible. A few more people joined this year, and that is amazing for the students, who have a more full choir with more voices contributing. Choir is the place where students get to sing and express their love for singing. The 7th and 8th grade concert was on Monday, March 8th. It was fun for all of the choir students. The 7th and 8th graders sang "Sing Gladly," "Blue Skies," "Bang on the Drum," and a few other songs. It was very quiet at first but then the singing got louder. The music and song choices were pretty good and they sounded amazing. Suraya Ekstrum, an eighth-grade alto singer, said, "The more practice we had the better we got."  And the other students would have to agree with her. 
All of the seventh and eighth grade choir students as well as Mrs. Franke, the choir teacher, hoped Covid wouldn't get in the way especially after the first planned concert had to be cancelled. It was so sad for everyone involved, and people wondered when the next one would be. Then, they had the new date set.
All participants at the concert were very energetic before performing for the audience. Before they all went up to sing, everyone was running around a bit and laughing a lot, talking about how nervous they were to sing. Although they were nervous, they knew that even if they messed up, it would be a learning experience for everyone involved. "A correct note never makes a great singer, practice and mistakes makes a great singer." said Ekstrum. They wished Covid would go away, so they could have school dances and regular concerts again. Mrs. Franke planned this concert, hoping for no new setbacks after the first cancellation.
After the choir students sang and got off the bleachers, they walked out into the atrium of the school and it was very busy. Many people, parents, students, and some teachers were outside the door they had to exit through. The concert was exciting, although it was different, and everyone was happy with the way it turned out. 
About the Contributor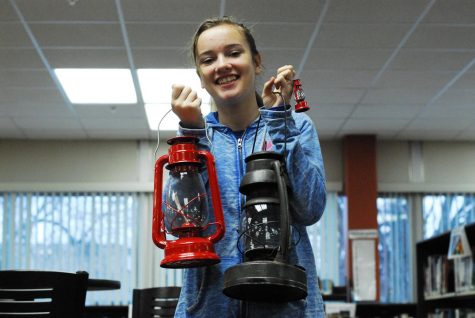 Kressin Hartl, staff writer
What up, it's Kressin Hartl and I am a freshman. Christmas and Netflix pretty much sum up my life.