Cheering, but not for COVID
The Cannon Falls cheerleaders made the best of a season infused with new COVID restrictions and other challenges.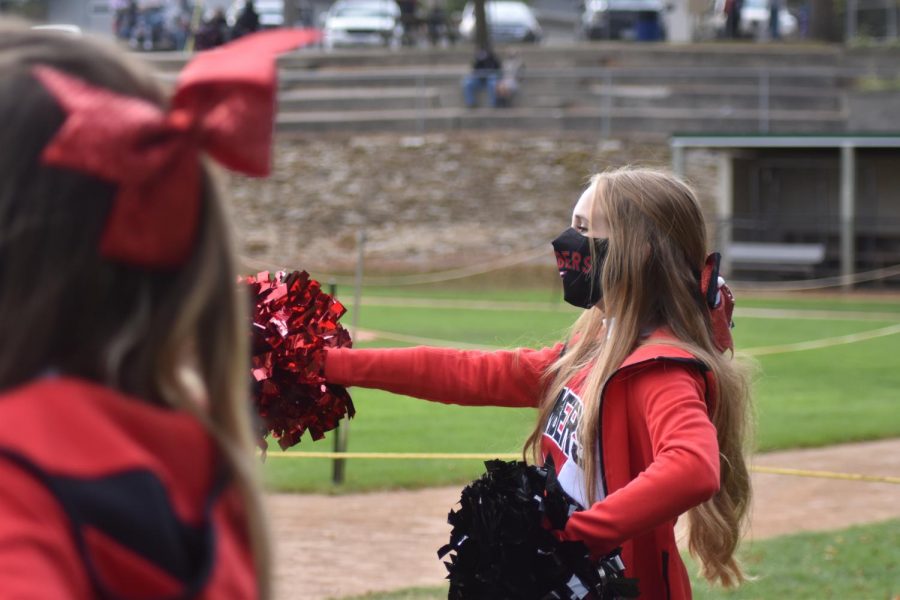 Although the dreaded COVID-19 pandemic has lowered the fan attendance in the stands, the Cannon Falls Cheerleading team still finds a way to bring spirit to Cannon Falls High School. Along with every football game during this shortened season, the Cheer team bring high levels of exuberance. They bring fire to not only the players, but everyone in the stadium. Whether it is practice time or game time, the cheerleaders maintain a social distance of six feet, while also bearing face masks. Sadly, COVID-19 prevented the cheerleaders from being able to perform stunts in their cheers, a feature they had reintroduced just last year. Senior Amelia Qualey was not thrilled about this restriction. "I am going to miss stunting the most about cheerleading," states Qualey. As the football season approaches the last stretch of games, Junior Anna Dubbels is savoring every moment on the field. "I'm going to miss seeing my friends everyday and getting to cheer on all the boys at the games," exclaims Dubbels.
Trying to make most of this season, the cheerleaders made a statement every game. "I feel it is harder for the crowd to hear us cheering with the masks on," explains Dubbels. This goes to show how much louder they had to be for the fans to hear. Qualey believes that their most exciting part of the season was the homecoming game because, although it was abnormal from previous years, they still had fun getting the crowd on their feet. Senior Kressin Hartl also had a blast "just being with the other cheerleaders." Hartl finds every game a rush of excitement. 
Just when the cheer team thought there weren't any more setbacks, their coach, Mrs. Schwarz had to take time away because she was expecting a child. This meant more practices run by captains and a replacement coach, Jamie Swenning, who has experience as a Varsity dance coach. The cheerleaders who were selected as captains ran these practices: Amelia Qualey, Anna Dubbels, and Elayna Sherer. Although Schwarz wasn't at the practices or games, the cheerleaders still kept in touch with her about their progress. "We will miss her so much!" says Hartl. As the cheerleaders take the field at the playoff football games for the rest of the season, they encourage fans to stand up and cheer for a hopeful Cannon Falls victory.