Cheering for a comeback
The Cannon Falls Volleyball Team starts off the season strong while forming strong team chemistry.
The roaring of students and parents cheering on the Bomber volleyball team is making the 2021 season dramatically different. Coming back with a gym filled with fans, no COVID-19 restrictions, and gritty attitudes, the Cannon Falls volleyball team is off to an extraordinary start to this season. After taking first place in an invitational tournament at St. Michael-Albertville High School early in July, the Bombers went on to win their first three regular season games, including Rochester Century, a AAA school.
Now, the Bombers are over halfway through their season, with an overall record of 18-5 and a conference record of 2-2, putting them 5th in the Hiawatha Valley League. 
The volleyball team has some big goals they would like to accomplish this year. Elle Lind, a junior on the team, mentions, "one of our biggest goals this year is to make it to the state tournament, or better yet, win the state championship." This would set a new school record, as the Cannon Falls volleyball team has never participated in the state tournament before.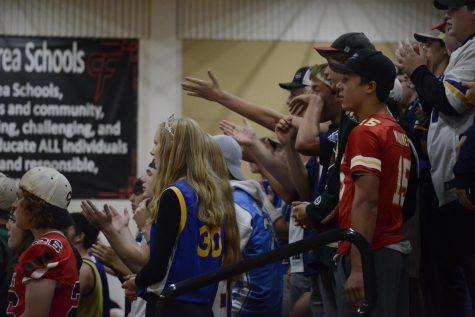 Another important goal the Bombers hope to achieve is beating good volleyball programs they have lost to in the past, such as Byron, Stewartville, and Kasson-Mantorville. Although the team has already lost to Stewartville in a close 3 sets earlier in the season, they hope to bounce back by beating Byron and Kasson. 
But, things are looking good as the Bombers consider their season ahead. "Our team chemistry this year has helped our team tremendously," claims Lauren Johnson, a senior captain of the volleyball team. "We are good at ensuring our team is staying in a positive headspace." 
"
"Our team chemistry this year has helped our team tremendously,""
— Lauren Johnson
The Bombers' head coach, Melissa Huseth, explains that there are still some elements the team could work on, especially in close matches. "The little things, like playing smart with our serving and being smart with our attack choices, would be a start," she explains.
Huseth goes on to say that the team has potential to do very well in the postseason. "Keeping good team chemistry, supporting each other, and giving our best without taking mental breaks during a match is going to be vital down the stretch," Huseth insists. 
But for now, the Bombers will focus on finishing their regular season strong, as they have 5 games left before the postseason begins.