Chewing up the competition
Cannon Falls speech team took home another win at Farmington.
It's another Saturday again at 6:45 AM, and while most teens opt to snooze for their one lazy day of the week, the Cannon Falls speech team is already roaring to go to the home of the Tigers, Farmington high school. The day was filled, as usual, for the speech team with fun, snacks, and of course, lots of talking to walls.
The day had two varsity category winners, Nick Engebretson in Discussion, and Conor Salmonson in Drama. There were also many second and third place varsity winners, including Janae Quam, Hailey Newinski, Kressin Hartl, Caden Bell, Xander Weinreich, Aizlynn Thim, Zoe Jesh, Emma Conway, Emma Watson, Hannah Singewald, and Bryson Felton. If you would like to see how the rest of the speech team did, you can view results this week on Speechwire. With so many big winners, it's no surprise that the Cannon Falls speech team received first place in team sweepstakes, a full seventy-four points ahead of second place team sweepstakes winner, Northfield
"
our practice is definitely showing up in our performance
— Jenae Quam
Jenae Quam, third place award winner, commented that she "felt that as a whole Cannon had great success- and our practice is definitely showing up in our performance!". I would say that overall I definitely agree with her. Although not everyone got the place they were shooting for, we all have worked hard this week, and as in most sports, you get what you plan for! While Jenae mulled over this weeks discussion tasks, and some moaned over depressingly lackluster critiques; Vienna Qualey was celebrating her seventeenth birthday, complete with balloons, a tiara and a trio of cupcakes. So, with all of this week's new tasks, whether it be memorization, some last minute edits, or research, we say goodbye to Farmington and look forward to this Saturday's tournament: Red Wing. The team can't wait, and hopes to see some bomber speech team supporters there to cheer on their friends and family through their speeches.
Hopefully, the results at this tournament bode well for this year's speechie season! So in the end, although we may not be the Tigers themselves, we did manage to chew up the competition.
About the Contributor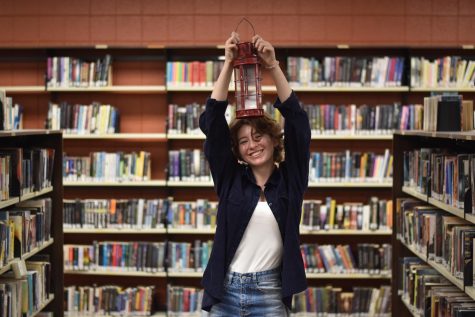 Bianca Caputo, Special Projects Editor
Hey ya'll! My name is Bianca Caputo, and I can often be found screaming at a ten year old iMac in an effort to not get fired. In the spare five seconds...