Coming of age
The Bomber boys basketball team is loaded with strong seniors, and they are preparing for what they hope to be a successful season.
Fallen leaves have littered the ground, the sky is overcast, more jackets are being pulled out of storage day by day, and snow is in the forecast. Winter is on the way. With the change of scenery outside comes the promised change of scenery in the high school gymnasium. On paper, this season's boys' basketball team appears to be the best, most well rounded group that the program has seen in recent years, meaning there is plenty of reason for excitement. 
Head coach, Josh Davisson, expressed his delight at the extraordinary depth of the squad this season, including a stunning eight seniors, suggesting that it will present problems for other teams that don't have such a luxury. "We can go pretty deep without losing a whole lot of quality. We shouldn't have a lot of falloff." When a coach can look to his bench and see no drop off in capabilities or desire, he doesn't have to hesitate in giving the starters a breather. Davisson emphasizes that his ability to turn to the bench makes it easier for the team to raise their game. It provides the freedom to apply a lot more full-court pressure and "to play a bit more up-tempo than in the past." Every player can work that much harder knowing there will always be someone more than capable of coming off the bench and performing at a high level when they could use a rest.
"
"One of things I'm most proud of with our program is that our guys are unselfish and they are doing what is best for the team." "
— Josh Davisson
Senior, Rhett Schaefer sees the admiral quality of unselfishness in every member of the team— something he thinks makes success possible. "A lot of my teammates might not score a lot every night, but everyone has a role, and they're willing to play that role and do what it takes to win," said Schaeffer. Davisson spoke to a similar effect: "One of things I'm most proud of with our program is that our guys are unselfish and they are doing what is best for the team." 
The Hiawatha Valley League is split up into Blue and Gold Divisions for basketball. At the end of the regular season, the winners of each division will face off for the overall conference championship. Shortly thereafter, the postseason commences. After ending the last couple of seasons in disappointing fashion (being eliminated in the first round of the playoffs), Schaefer feels that the team has a point to prove. "We are motivated to play with a chip on our shoulder— to play with a spark." Coach Davisson is hopeful that the Bombers will be able to pull through at the top of the Gold standings and ultimately be crowned the overall HVL Conference champions, but he voiced that he doesn't want his players' heads too wrapped up in what may be up for grabs months down the road. Instead, he urges his team to focus on getting better one practice at a time and to never be content with where they're at. "If we were to go out and blow out a team, we don't want to say 'well that's as good as we're going to get.' We want to make sure we're getting better each day," he stressed. Working with that mindset can take any team to new heights.
"
Rhett Schaefer"
— "We are motivated to play with a chip on our shoulder— to play with a spark."
 The Bombers open up their 26 game regular season schedule against the Brooklyn Center Centaurs at home on Tuesday, December 3 at 4:30 p.m. The following Tuesday, the team will hit the road to take on Kasson-Mantorville. A pair of home games against Rochester Lourdes and Byron on the 12th and 17th will wrap up the early season games played before the holiday break. After the turn of the year, the team has 22 more regular season games to play, and then the excitement and unpredictability of playoffs will begin. 
About the Writer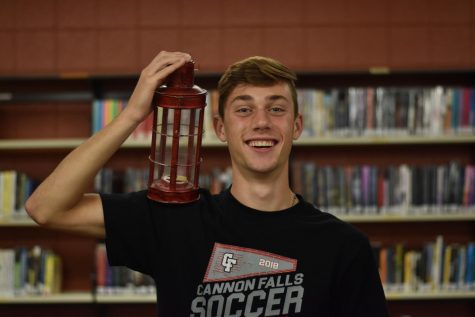 Chris Baszuro, Sports Editor
Chris Baszuro, now a Sports editor, is a senior and has been involved with the Lantern for two years. Soccer, speech, MHS, band, and jazz band are a few...