COVID-19 takes its second victim
Governor Tim Walz addressed the concerns on his new Stay At Home executive order while also updating Minnesotans on the new COVID-19 statistics in his conference call today.
On March 26, at 2:00 p.m., Governor Tim Walz held another daily press conference over the phone. He started his call by announcing there has been a second death recorded in Minnesota as a result of the Coronavirus pandemic. This death took place in Ramsey county. 
So far, 346 Minnesotans have been infected by COVID-19 and 44 of these individuals have been hospitalized. In addition, 18 people are currently in intensive care units. The age range of people who have fallen ill to the Coronavirus is very wide, ranging  from a five-month-old to a 104-year-old. 
To combat this pandemic, Gov. Walz issued an executive order for Minnesotans to stay at home yesterday. This shelter in place order will start tomorrow, and it will conclude on April 10 at 5:00 p.m. During this call he explained the rules of the executive order. This order applies to all Minnesotans even if their county has not yet been infected by the virus. In addition, he stated, "It is certainly not put in place to inconvenience Minnesotans, although it certainly will do that. It is certainly not our intention to make someone a criminal for going and getting bread. That is not the intention at all. Laws enforcement understands and they want to help. No one is going to be asked to carry papers or show a note for where they are going."
"
It is certainly not put in place to inconvenience Minnesotans, although it certainly will do that."
— Tim Walz
The purpose of this order is to slow the infection rate in Minnesota and Gov. Walz explained that "We have a clear mission to slow the transmission of COVID-19 and at the same time supply, ramp up, and expand the best health care system in the world." To make this mission successful, Gov. Walz advised Minnesotans to stay home and continue social distancing. He also promoted the idea of venturing outside and getting fresh air. 
In his daily briefing, he announced there have been 59 new cases confirmed today and that 8 days ago this number would have been the total number of cases of COVID-19 in Minnesota. By using this example, Gov. Walz was able to show the growth of the virus. 
Another major part of the call was Gov. Walz thanking the legislature for working hard throughout this tough time. He just proposed a 356 million dollar package to fight this outbreak to them. After showing his gratitude towards them for working long hours to deal with his demands, he took a moment to appreciate what the Minnesota Initiative Foundation has been working on. This foundation is launching an Emergency Childhood Care grant to provide financial support to families during quarantine.
Overall, today's daily briefing was a more in-depth examination of what the executive order would entail. At the moment, Gov. Walz has no intention of closing Minnesota's borders, but he is still encouraging Minnesotans to practice social distancing by complying with the statewide executive order which will go into effect tomorrow. 
About the Contributor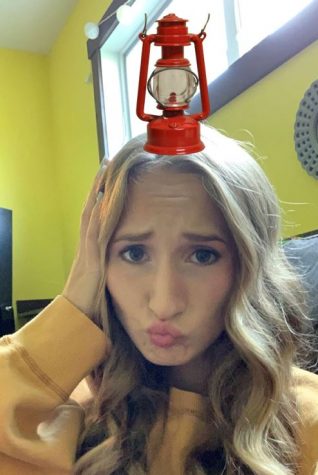 Amelia Qualey, Editor in Chief
Amelia is an alien from the planet Blurble. Her car of choice, a green Kia Soul, resembles one from her home planet. She is a professional dancer because...