Covid classroom swap
This school year has been a rollercoaster, and currently, all of Cannon Falls is operating under a full-time, distance learning model.
After approximately a year since COVID-19 came into the lives of the students at Cannon Falls High School, a return to normalcy was in sight for many. A decision by the COVID advisory committee for the high school was made to allow students to participate in an all in-person learning model. However, a few weeks later, after a large break out of COVID cases in the high school, students have been forced to resume distance learning until at least May 3. At that date, the school's COVID advisory committee will reevaluate the situation and make the decision on whether to continue distance learning or to switch to a hybrid or in-person learning model. 
Since both cohorts were previously all together, it was impossible to maintain the recommended six feet of distancing in the school building. Although students were required to wear masks, the combination of exposure from activities and in-person learning led to several positive cases schoolwide, and many students had to quarantine due to close contact with the positive cases within the high school. 
At the time when the original switch back to in-person learning occurred, there were many concerns amongst both students and staff. Riley Bucheit, the ninth-grade science teacher, was most concerned about the possibility of having to switch back to a distance or hybrid learning model, which is now a reality for both elementary, middle, and high school students. Angel Zheng, a freshman, had some COVID concerns initially when going back to in-person learning, hoping that she wouldn't get sick or have to miss out on activities for a fourteen-day quarantine. "I enjoy in-person, so I am not relieved [that we had to switch to distance learning] however, that is the only possible answer to keep everyone safe," Zheng remarked. 
Although most students prefer the altered version of in-person learning with masks and social distancing, others like distance learning from home better. Cadence Kilmer, a ninth-grader, opted to continue remote learning even when an in-person option was available. "For me, [distance learning] has been really beneficial. I'm able to get up and move around when I need to and that makes me feel a lot better about the work I'm doing." Kilmer was also concerned about focusing in classes, especially while wearing a mask and with restricted opportunities to move. For the first few weeks of in-person learning, many classrooms offered asynchronous learning for the people at home, including Bucheit's. Distance learners had to hold themselves more accountable for getting their work done. Now that everyone is distanced, classrooms have returned to learning as a whole. 
After case numbers go down, most students hope to return to school to experience a bit of normality that has been missing for over a year. 
About the Writer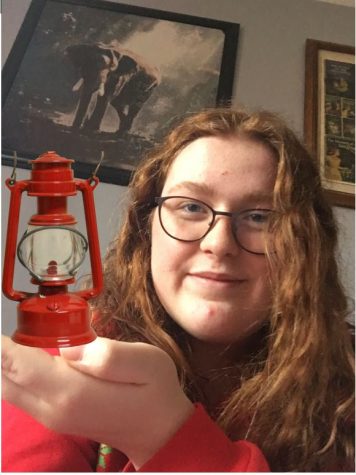 Grace Miller, News writer and Torch editor
Salutations! My name is Grace Miller, and I am in ninth grade. I love to play with my poodles, read, and doodle (admittedly terrible) Grinches. I am involved...