Dancing in the (purple) rain
Midseason review of the dance team's success.
"Our zippers broke!" One girl after another shouts to the coach at the Lakeville South tournament, as costume after costume starts falling apart. The Cannon Falls Dance team was facing a crisis twenty minutes before they were scheduled to perform, with two teams lined up ahead of them. Dance moms came to the rescue Macgyver style, using safety pins to avert the potential disaster of a disqualification. The Cannon Falls Dance team has mostly ups and some downs, and with state coming quicker and quicker, the pressure is on.
Sophomore Olivia Johnson described how she felt as the event unfolded. "I was scared and I was thinking of everything that could go wrong. I could slip on a safety pin, or what if a safety pin stabbed me in the back!" Luckily the worse case scenario didn't come true, and the routine was able to finish without complication. "We've been undefeated until Lakeville South with kick," senior Grace Hall records, However it wasn't the costume conundrum that caused the Dance Team to place third. "At Lakeville we were against Double A and Triple A teams" Hall reported. Orono received first place (AA) and Mound Westonka (AA) took second.
The Prince themed dance has been a success with the judges, as the team has been ranked first in the state based on average scores (72.8%).  "I would say the dance this year is a lot more visually effective with having two different colors [costumes]." Hall said. Songs include Raspberry Beret, Little Red Corvette, Purple Rain, and 1999.  "Overall the dance is more fun, we have great kicks and a fun routine with high difficulty that we've been working on."
Dance is scored out of 500 points (100 points per judge). Each judge has categories to score the dances, from number of kicks, degree of accuracy, routine effectiveness and creativity. Their highest score this year was 381, which is exceptional. "We scored one or two points higher than our biggest rival (Akin)," said Hall. "It's definitely a confidence booster, and motivation for all of us to keep pushing harder."
The Dance team got approval from the School Board last Spring to turn a room at the CCC into a Dance Studio, helping solve the problem that has been plaguing the dance team from the beginning – they don't have a mirror to see their positions and poise. "It's really nice," Hall said. "We have our own studio, our own gym, and our storage room is there, which we call The Cave. Also Just for Kicks is in the building. It's great that everything is all together, whereas before we were in the Elementary Gym." Before they practiced in the gymnasium or down at the elementary school, but both were second rate.
The Bombers compete this Saturday at home in the gymnasium, with a new dance they have prepared for sections at Bloomington Kennedy, and hopefully state at the Target Center.
The girls have had a successful season, and are gearing up for state. Hall said, "Sections are coming up fast, and we're ready for the whole new season and our new dance."
About the Contributors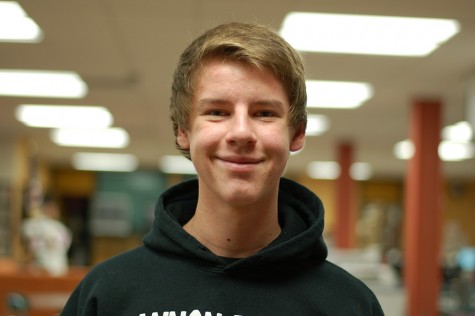 Grant Schlichting, News editor
Taking on Tenth grade, trap shooting, speech, skiing, jazz band, band and debate keeps Grant extra busy during the school year. Plus, he's the Lantern's...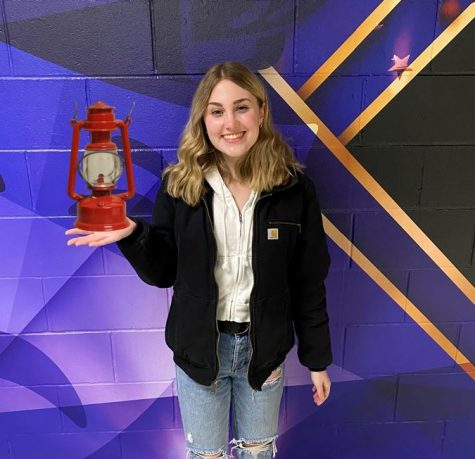 Emma Louwagie, staff photographer
Emma Lou is a senior photographer who enjoys spending money and snuggling with her puppy.