Dancing their hearts out
The BDT placed 7th in jazz and 4th in kick at the State Dance Competition.
For the 19th consecutive year, the Cannon Falls Bomber Dance Team made it to State. This year the team made it in both styles of dance, high kick and jazz. 
The jazz competition was held on the 12th of March and on March 13th, the high kick competition took place. Both events were held at Edina High School this season. On their way to State, the girls were sent off by fire trucks, police cars, and ambulances. "I really love the fire truck and police car escort. It is something that I look forward to every year. Having our community behind us when we go to State means a lot and it really gets me super excited for State!" said Junior Matti Baird. The send-off to State is one of the dance team's favorite events. 
All of the dance team girls were very appreciative of the support from the people of the town too. Numerous people gathered along the streets to wish the girls luck as they headed to state. All of the cheering and heartwarming signs helped encourage the whole dance team. 
"
We all went through a tough year with Covid, so I think ending with 7th in jazz and 4th in kick is pretty amazing!"
— Lexie Banitt
The Bomber Dance Team did very well this year at State. They placed 7th in the jazz competition and 4th in the high kick competition, which is an amazing accomplishment. "I think we did amazing this year at State and even throughout the season. We all went through a tough year with Covid, so I think ending with 7th in jazz and 4th in kick is pretty amazing!" said Senior Captain Lexie Banitt. This team worked extremely hard to get where they ended up this season, but there were some obstacles along the way.
The Cannon Falls Bomber Dance Team had some challenges with their season this year. "Masks obviously were a challenge, but social distancing was harder. We're a very close team, and not being able to be physically close was hard. Even with all of the challenges this year brought, we continued to persevere and make every second count." said Junior Olivia Villarreal. Despite the many challenges, the dance team persisted and worked hard, resulting in an incredibly successful season. 
About the Contributor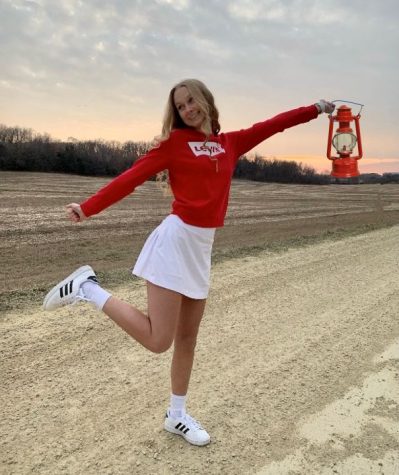 Anna Dubbels, News Editor
Anna is a news editor this year for the Lantern. She is a junior who is involved in student council, yearbook, dance, cheer, and golf. In her free time,...