Daughter of the Deep
A fantastic addition to Rick Riordan's body of work, the Daughter of the Deep shines.
Technology today has come a very long way from what it used to be. Going from the first steam powered machines to now having the internet and smartphones is a pretty big change. If you're looking for a captivating story that combines both old and new technology, Daughter of the Deep by Rick Riordan is perfect for you.
Daughter of the Deep is a science fiction novel featuring technology from the Jules Verne stories Twenty Thousand Leagues Under the Sea and The Mysterious Island. Jules Verne was a French novelist and poet, and despite the fact that he lived in the nineteenth century, he wrote about technology that wouldn't be invented for many years. His books emphasized the importance of the ocean and how it could be used to power new technology. It was Verne's characters and ideas that were the inspiration for Daughter of the Deep. 
Ana Dakkar is a student at Harding-Pencroft Academy, a high school for future marine scientists and naval warriors. After her parents died on a scientific expedition years before, Ana was left with her older brother Dev, a senior at HP. On the last day of her freshman year, Ana and her class left their school and were taken to the boat where their freshman-year trials would take place. The trials would determine her future as a student at HP. Before the trials could begin, A rival school attacked Harding-Pencroft Academy, leaving it up to Ana's freshman class to stop this threat against their school.
After the attack on Harding-Pencroft, Ana was suddenly left with the task of leading her nineteen classmates on a voyage across the sea in order to stop their new enemy once and for all. Their exciting adventures at sea are sure to keep you on the edge of your seat and leave you wondering about who can really be trusted. This complex story is full of surprising twists and turns as Ana learns more about her family's history while trying to navigate her new role as leader.
Once I started reading Daughter of the Deep, I couldn't put it down. Each of the characters are so unique and the story was written very nicely. I learned so much stuff about Jules Verne and his books that I never would have known if I hadn't read Daughter of the Deep. The way Rick Riordan combined Verne's old ideas with today's more advanced technology was really interesting. Daughter of the Deep is definitely a really great book for ocean and technology lovers, but I would also recommend this book to anyone who's just looking for something new and exciting to read.
About the Writer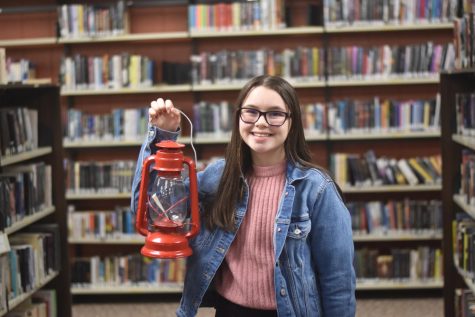 Madeline Olson, Torch Writer
Hello! My name is Maddie. I am in 8th grade and this is my second year writing for Torch. I like to spend my time reading books and painting. If I'm not...