Dribbling all the way to Idaho
Taylor Johnson recently committed to the College of Southern Idaho to continue her education and basketball journey.
Taylor Johnson, a senior for the Cannon Falls Bomber's girls basketball team, has been a powerhouse player for the Bombers. Johnson is a crucial component to the team, their play, and attitude. Johnson's game this season has really excelled and she is taking her basketball career beyond high school after the season is over. She will be attending The College of Southern Idaho in Twin Falls, Idaho.
Many factors went into Johnson's decision to commit to Southern Idaho. First, was the location. Johnson stated, "Many things stood out to me such as the geography and location of the place is extremely gorgeous and unlike any place I have ever seen." The College of Southern Idaho is located in south-central Idaho in the city of Twin Falls, which is home to roughly 50,000 residents. The city was part of the appeal to Johnson because, as she commented, there are lots of places to shop, eat, and keep busy. On her visit to the college, she liked the campus for its size, and she mentioned that it felt more like a four-year university rather than just a two-year college.
Along with being in a new environment and new location, Johnson will be thrown into a new social environment as well. She expressed that she was excited to meet new people and have fun with her new basketball team while she is there. She is also excited to get the experience of living in a dorm with a roommate and to be living on her own. However, it will be quite a shock as she will be about twenty hours away from home and living independently. Playing basketball for Southern Idaho is a pathway to getting recruited by another team, and Johnson noted that moving on and playing basketball for another team is a common goal of the girls she will be playing basketball with.
As a high school player for the Bombers, Johnson has shown she is a force to be reckoned with. She is a six foot-three-inch center for the Bombers and is a huge help to the team offensively and defensively. On the offensive side of the ball, she is a huge help when breaking the press as she is a reliable outlet for the ball. She is very productive as most of the shots she takes are in the paint and she hits them with consistency. She also finds the open girl to get assists and help rack up the points. On defense she is always up for a challenge and takes the task of defending big post players on the opponent's team, she is also always ready to play help defense when someone gets beat. On both offense and defense, she is an amazing rebounder and gets physical. 
Next year for the Bombers is going to look a lot different without Johnson on the team but she is ready to move on and play a higher level of basketball on the college stage.
About the Writer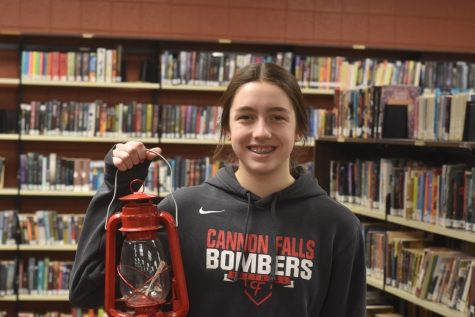 Anna Ritz, Staff Writer
My name is Anna Ritz and I'm in 10th grade. I'm a sports writer for the Lantern and I play volleyball, basketball, and softball.