Dribbling towards a goal
The CFHS girls basketball team is starting the year off with a few goals in mind.
The winter season has begun, which means basketball is back in full swing. This year the girls basketball team has made a few goals they would like to achieve according to Head Coach, Steven Strauss. Those goals include being ranked in the top eight for the section and earning a home playoff game, continuing to improve upon their skills, working hard, and having fun. This year the players don't have to wear masks and junior Kyra Schoenfelder says, "This has made it so much easier to run up and down the court for long periods of time." 
Coach Steven Strauss also says this is the biggest difference physically for the girls.
Currently, it is four weeks into the season and the team sits with a record of 1-4. Although Coach Stauss said that the first few weeks have been very discombobulated so far, three out of their five games have resulted in a loss by one or two points. He also said they have multiple girls out right now for a variety of reasons and have not had a full practice yet which has made it tough. They still won't be back fully for a few weeks but the girls are still working hard anyway.
Their most recent loss came to the Goodhue Wildcats on Thursday, December 9th. The game didn't start out the way they were hoping but the second half went better. They still were not quite able to pull off the win after the start of the first half though. However, Coach Strauss told the girls he was still happy with how hard they played.
So far the schedule has been tough and with the next three games coming up against PEM on Saturday, December 11th, Lake City on Tuesday, December 14th, and Byron on Friday December 17th, it will not be getting any easier.
Coach Strauss is in his 11th year of coaching and second year as the Varsity Head Coach. He says his favorite part of coaching is "building relationships with student-athletes and seeing them improve." He also said "My ultimate goal is that when seniors are done with the basketball program, they had a great experience and learned a lot about the game and life."
About the Writer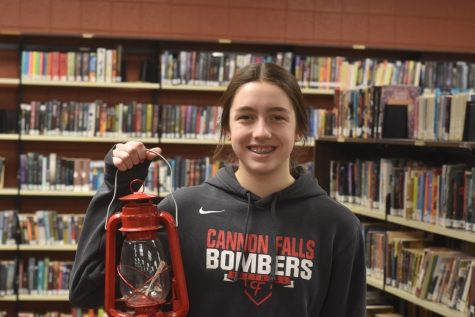 Anna Ritz, Staff Writer
My name is Anna Ritz and I'm in 10th grade. I'm a sports writer for the Lantern and I play volleyball, basketball, and softball.